November 24th, 2013
This is Seoul Foundation of Women & Family.
Today, KGCAUS activity report was held in here!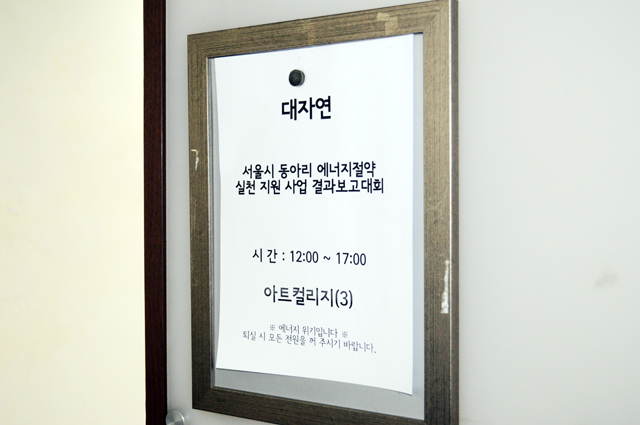 Many university students from 18 clubs gathered in Art College to participate in the event!
Let"s check out their report introducing their environmental activity.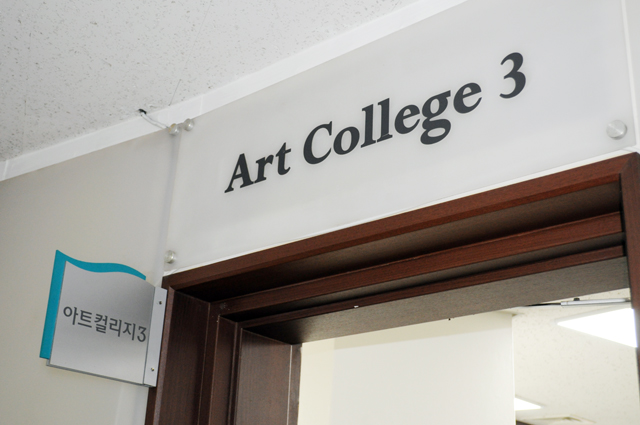 Today's host is Han Su-kyung, a staff of Daejayon.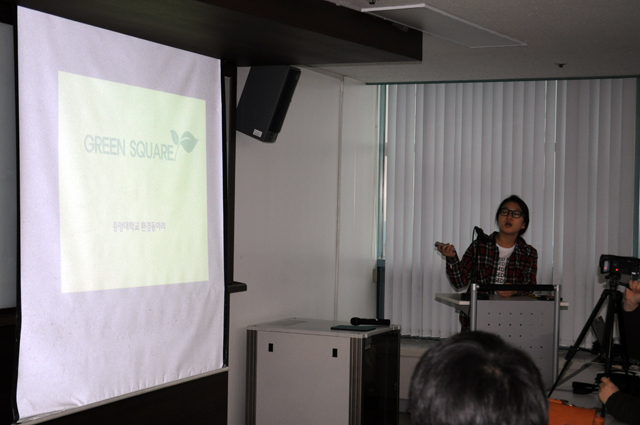 First, Chung-Ang University's environmental club "Green Square" presented their activity.
"Green Square" explained in detail many cases about "Standby Power Zero Campus Campaign."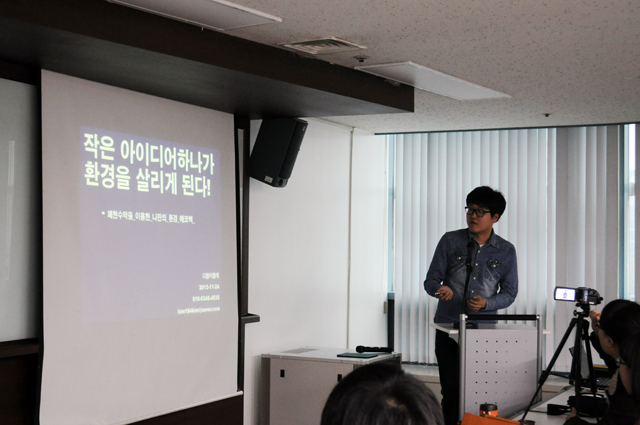 The second is environmental Union club "Together."
They have led environmental movement by using waste banners as an eco-friendly item.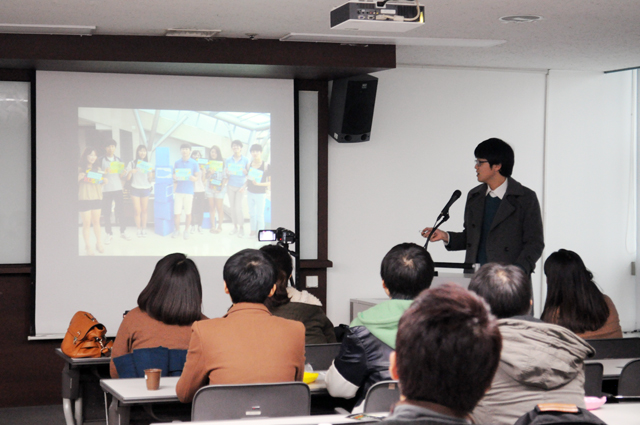 Next is "KUSEP" of Korea University and their activity is "Unity."
In 2013, KUSEP members did a project "let"s save paper!"
In this year, they did so many environmental activities such as paper work campaign by using reusable paper, installation of boxes for gathering reusable paper, producing and distributing notebook made of reusable paper and post-it made of recycled paper to 1,000 students of Korea University. And KUSEP members let students know the real situation about paper waste and the ways how to save paper through questionnaire study.
KUSEP's activity was good as a green campus movement because nowadays paper is the most wasted thing thoughtlessly in campus.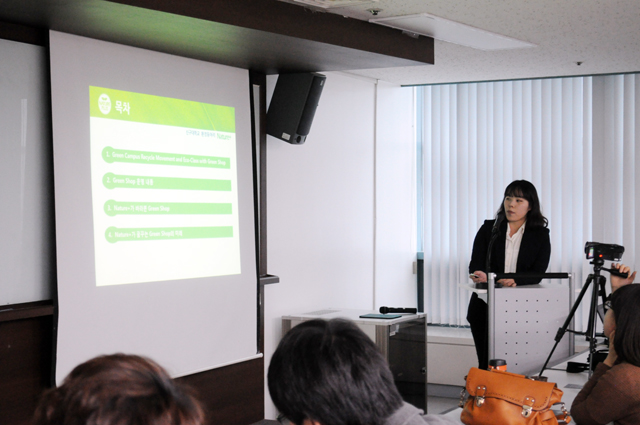 Next is "Nature+" of Shin-Gu University.
"Nature+" is running "Green Shop" to help environmental refugees and "Eco-class" on Wednesday in every second and fourth week. And "Nature+" shared many interesting ways of doing environmental movement in daily life and attracted many people's attention about environment through making eco-friendly lip-balm, bag, T-shirt and so on.
The fund raised these campaigns will be used to help environmental refugees. In this year, "Green Shop" is introduced by ABN [Areum broadcasting station] again. "Green Shop" is already so famous not only in Shin-Gu University but also in its city. In this way, "Nature+" did so many meaningful activities in 2013.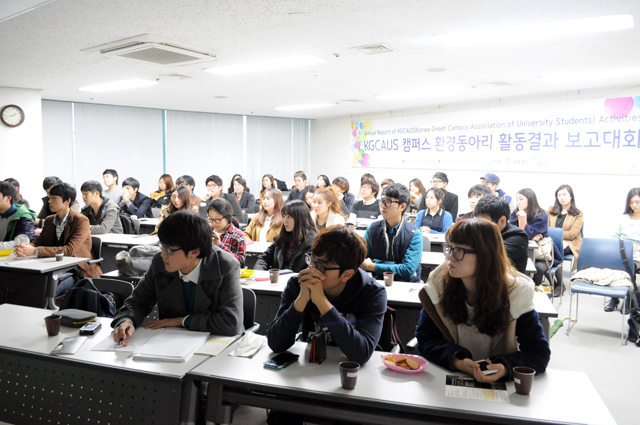 All these environmental clubs are doing their best for our environment but the way of doing environmental movement is so various. There are many fields of environmental clubs such as academic, campaign, instruction, etc. They can use paper, Green Shop, standby power, cup holder or even a garden as their environmental activity.
It is expected that "Green Campus Movement" by university students will be on the boil more and more through sharing and exchanging each clubs" activities and experiences.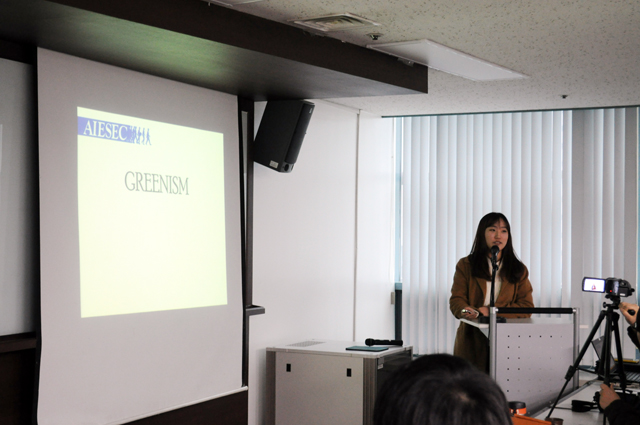 And AISEC of Ewha Womans University presented its activity about "Greenism."
This year, AISEC did lots of activities with DAEJAYON as like "International Biodiversity Students Conference". It was a great opportunity to be able to learn the current state and vision of many countries' biodiversity. And also through leadership exchange with environment, students could share environmental movement with foreign students.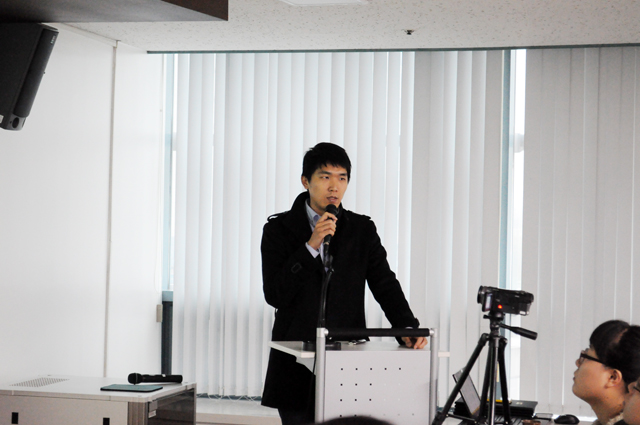 Union club "Urgan Egoist" is the next.
"Urgan Egoist" did a campaign to produce "Water Saving Sticker" and attach it in restroom for saving water.
The slogan of this campaign is "Water Becomes War."
If people use much water, the written word "Water" in sticker is changed to "War" because the sticker's color can be totally changed by temperature.
The message is that if we do not save water, some day war will be break out. Total, 6 universities and many middle and high schools participated in this campaign and it made a great appeal to them.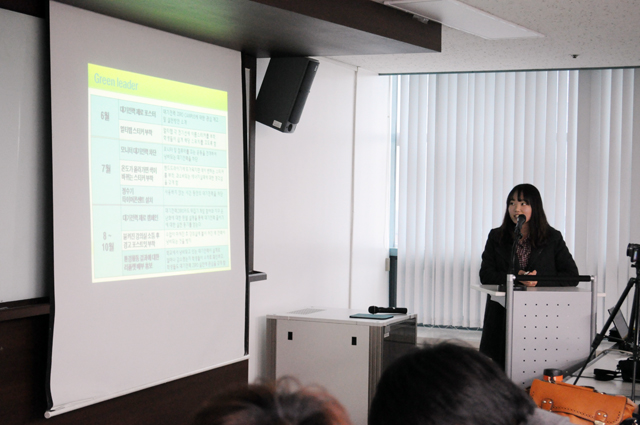 Next is "Green Leader" of Dong-Yang MIRAE University
"Green Leader" installed timer sockets in its university and did "Campus Lights off Campaign" in empty classroom with the theme of "Saving Energy."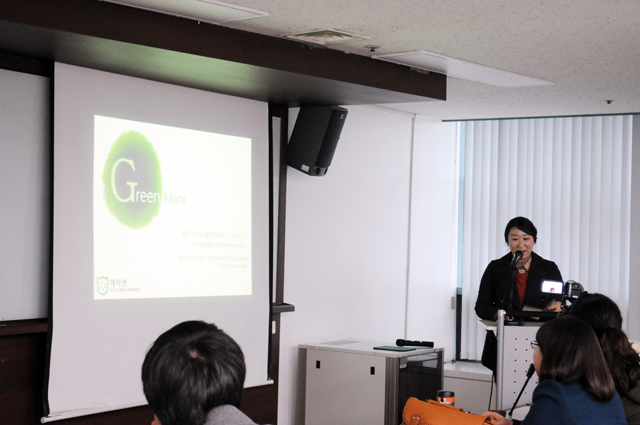 This is "Green Mate" of Kwang-Woon University!
"Green Mate" did varied activities for saving energy. For example "Standby Power ZERO Campus Campaign", "Campus Lights off Campaign", "Putting Stickers campaign", Timer socket installation, and so on.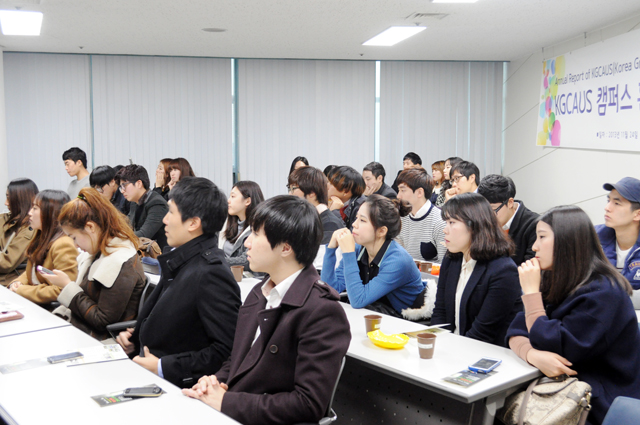 If all of environmental belong to KGCAUS can be gathered altogether in 2014, then by sharing each clubs' vision and direction of activity, we can make even better results than today for our future. For the Green Campus!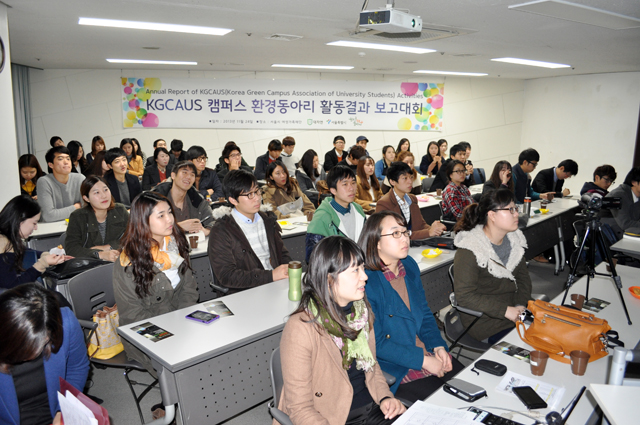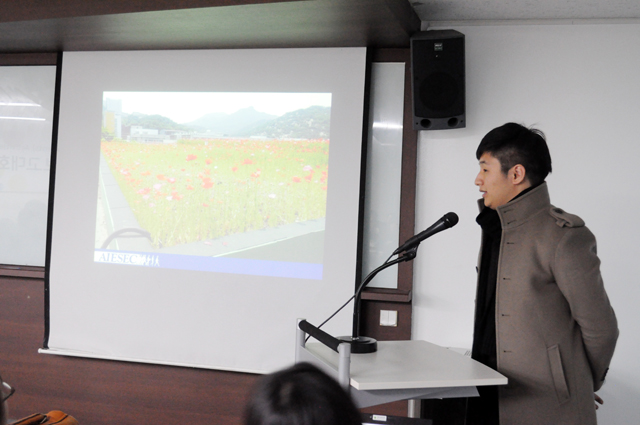 Next is a presentation of "AISEC" of Seoul National University.
All members of this club gather 3 times every week to have discussion on their university's environmental matters and to prepare the campaign. And "AISEC" made posters and attached them to bulletin boards and walls of the campus building to promote "Green Campus program."
Also, "AISEC" held "Energy Forum" regarding "Rooftop Greening". The "Rooftop Greening" provides garden and park and prevents flood and even save energy! In addition, "AISEC" gave lecture about saving energy and Eco-friendly energy in Community Children Center.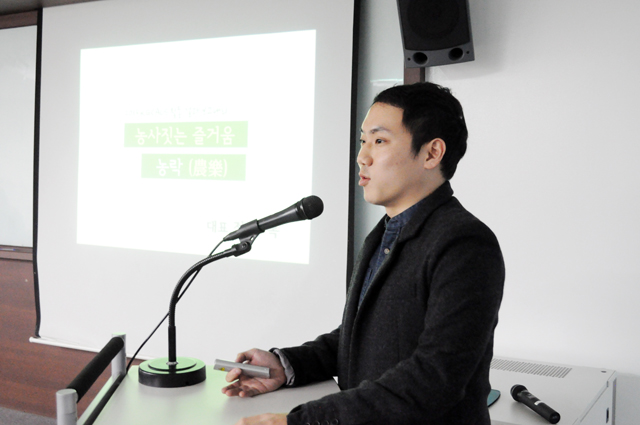 The next is Catholic University of Korea Environmental Club, Nonglak.
Nonglak's activity was so dynamic. They have been farmed a vegetable garden and cultivated crops and sold these to school cafeteria. And the profit is donated as scholarship.
And Nonglak has done a "Cup Holder" project with Coffee Zoo in campus.
Most people just throw away cup holders after having coffee and it makes many resources run out. So, Nonglak made collection boxes for cup holders. By collecting and reusing many clean and reusable cup holders, it highly succeeded in reducing resource waste.
Even though it is a small idea and practice, however through this, Green Campus which is our goal is coming to us so near than before. It is coming true by you, university students.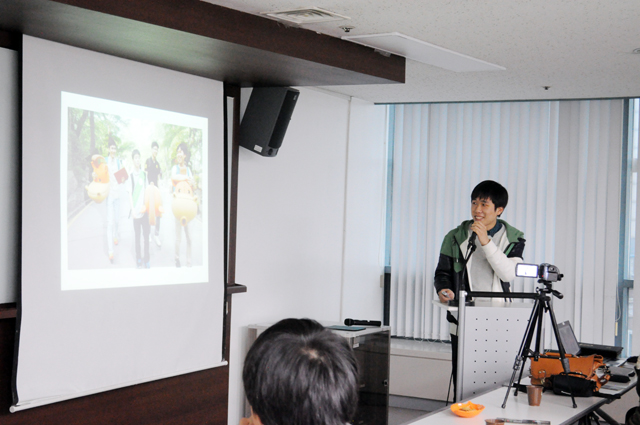 This is "G.A.Green" of Yonsei University.
"G.A.Green" went around 10 universities located in capital area, wearing "Horse Mask."
Members of "G.A.Green" made their club in 2012 and started environmental activity from "Not to Use Report Cover Campaign" and in this year, they did "Campus Lights off Campaign." In addition, they carried out "Flash Mob Performance" for Green Campus Campaign with horse mask at the City Hall of Seoul.
In this time, let's see the report of Sang-Myung University Green Campus.
In order to encourage people to use multiple-tap, Green Campus' members attached about 50 stickers to multiple-taps. Moreover, installed timer sockets and did "lights off campaign" and panel exhibition for Sang-Myung University students and managed "Standby Power Booth Campaign."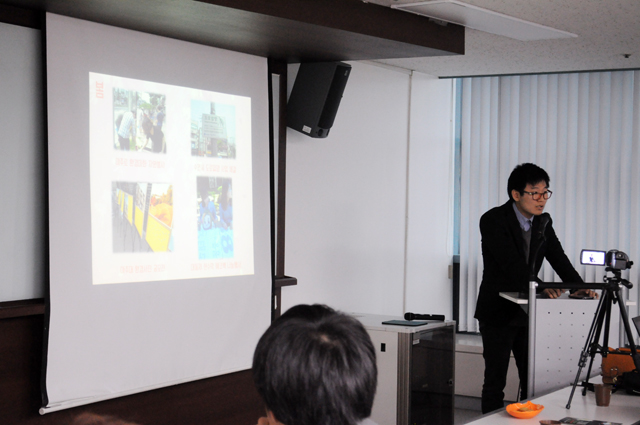 This is AJOU University's environmental club "C.A.P". They did so many activities in 2013.
They did clean-up campaign with Suwon-si, Eco-friendly bag sharing campaign and environmental photo contest in spring. And in summer, did environmental education for youth and opened a flea market. Also, in autumn and winter, "C.A.P" established ecological park and "Sharing Shop." In addition, "C.A.P" even did "Campus Green Campaign" with Daejayon. Until now, they have been doing various projects for making green campus.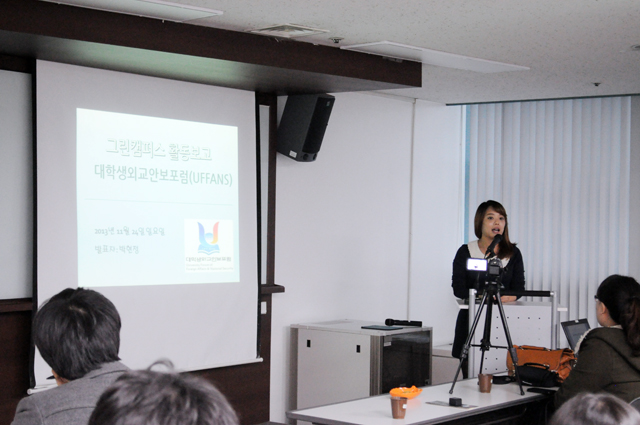 The next is Union circles "UFFANS"!
University Forum of Foreign Affairs and National Security (UFFANS) has made so many efforts to reduce the use of disposable product with the title of "Disposable Product ZERO Campaign." "UFFANS" provided many chances to realize "green campus movement" through green campus lecture and photo campaign.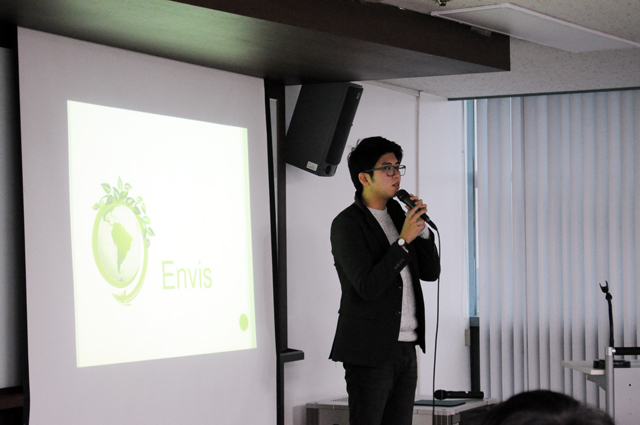 Next, let's see Kyung-Hee University's environmental club "ENVIS."
"ENVIS" carried out an environmental education in two elementary schools in Gyeonggi-do by receiving support from "UNESCO." This education program is comprised of academic education, making energy car, magnet sticker and flowerpot so it could attract many interests from students. Besides, "ENVIS" is carrying forward a plan for publishing academic journal. Their passion will satisfy many people's expectations in next year again.
After all the presentations were over, a staff of DAEJAYON briefly introduced "Earth Walk."
The Global Walking Campaign "2013 Earth Walk Forum" will be held on November 28th to help environmental refugees. Do you want to know about it? Then, check about Green World>Earth Walk!
After finishing every presentation, prize-giving is followed for clubs that made a great result.
From Korea Energy Management Corporation's president prize to DAEJAYON presidential prize, among many clubs, only 5 clubs received the honor of prize.
The first prize winner is "ENVIS"!
The next is "C.A.P" of AJOU University.
And "KUSEP" of Korea University.
"G.A.Green" of Yonsei University also got a prize!
Nonglak of "The Catholic University of Korea" also won a prize!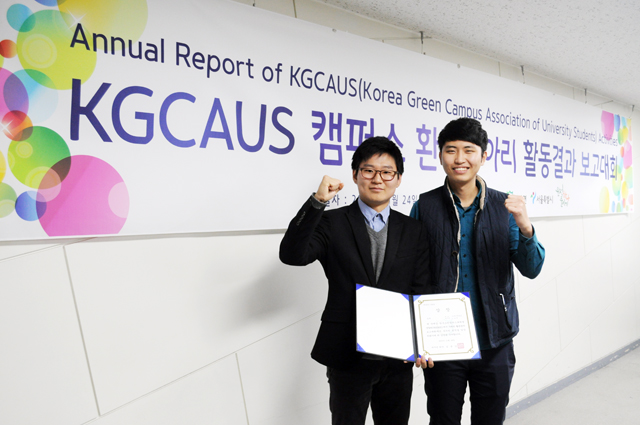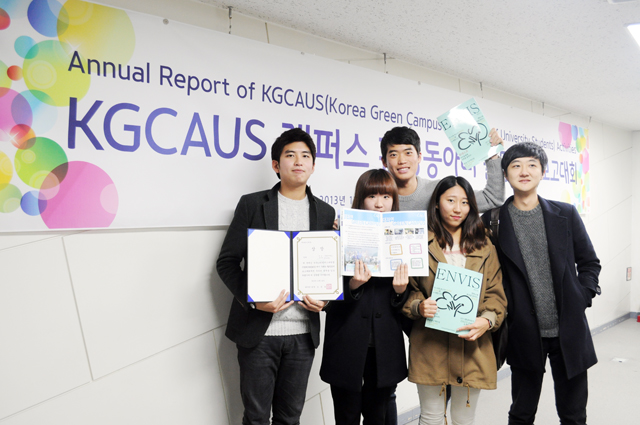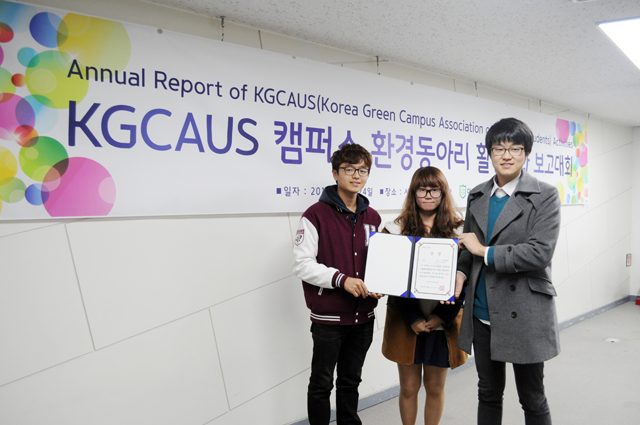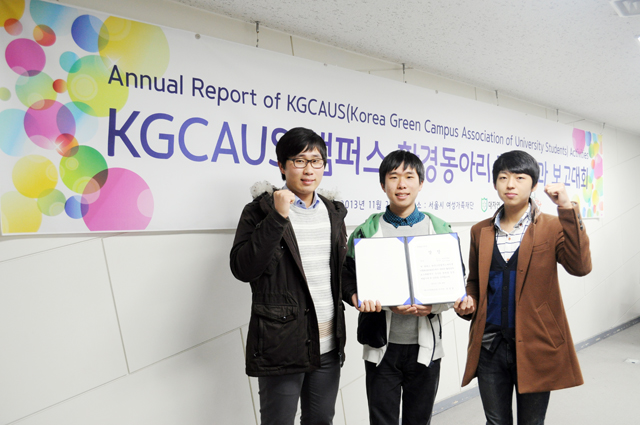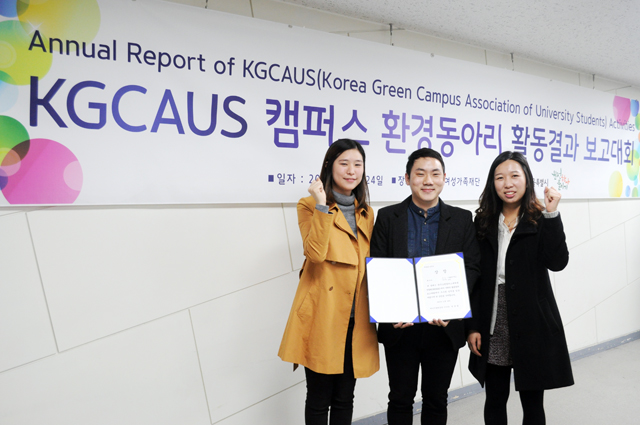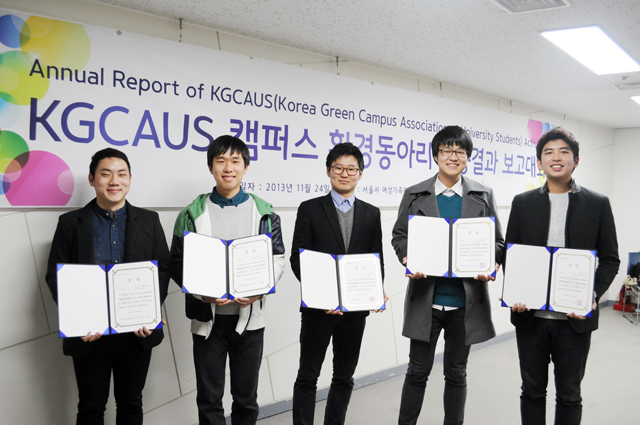 Sincerely thank you for your efforts and activities in 2013 for making Green Campus.
Are you ready to run in 2014 again?
For our dream!
Let's make Green Campus!