Become a supporter of Daejayon!
In human history, no disaster has killed more people than global warming does; nothering has harmed human races more than it does. The best way to practice your love for humanity is to try to cope with global warming that threatens the survival of mankind, and conserve environment clean.
DAEJAYON produces youth and university student environmentalists who will drive our future. Become a supporter of DAEJAYON, today! The youth and the university students who think about the future of mankind will become great environmental leaders, and will make the Green Earth for all of us through their global environmental movement.
When you become our supporter,
· You can support DAEJAYON by regular donation.
· You can take part in our environmental training programs.
· You can receive our booklets and news letter.
· You will be invited to out events.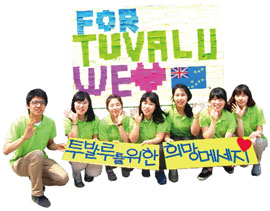 Category of Donation / Bank Account

| | |
| --- | --- |
| Bank Name | KOREA EXCHANGE BANK |
| Account Holder | DAEJAYON |
| Address | 181, Eulji-ro 2-ga, jung-gu, Seoul, Korea |
| Account No. | 630-008047-182 |
| Swift | KOEXKRSE |
* In case of a regular donor, automatic withdrawal is convenient.
* If you are a first time donoer, please send us your name, where you belong to, contact number, email address and your motives for donation through email. (greatnature@greatnature.org) Thank you!