7. AFFORDABLE AND CLEAN ENERGY


11. SUSTAINABLE CITIES AND COMMUNITIES
17. PARTNERSHIPS FOR THE GOALS

"Global Summit" of the 9th Seoul Green Campus University Student PR Ambassadors
was held by pre-recording the event with the leader's of 10 teams
on behalf of the team and country
and the team members participated through YouTube streaming.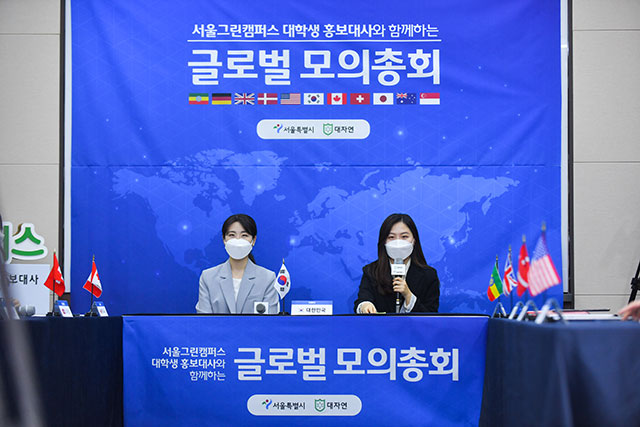 In a bid to let people know and be awake that the whole world is facing climate crisis,
Professor Sun-Jin Yun at the Department of Environment, Seoul National University,
gave a lecture on "Becoming Climate Citizens in the Era of Climate Crisis."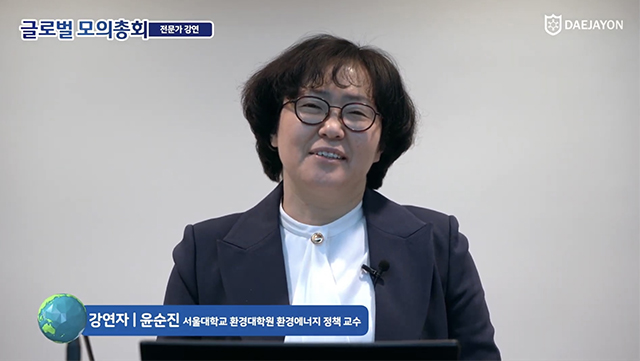 Due to the drastic increase in carbon dioxide concentrations,
carbon dioxide level went above the line
that had never been exceeded for hundreds of thousands of years.
At the 48th Session of the IPCC, "Special Report on Global Warming of 1.5°C"
was unanimously adopted by 195 member countries.
This indicates that in order to achieve the 1.5°C goal,
it is necessary to reduce carbon dioxide emissions by 45%
compared to 2010 by 2030 and achieve net-zero emissions by 2050.
These days, people around the world are complaining
about the inconvenience of using masks due to COVID-19.
This gave us a surprising fact that it is also correlated with the climate crisis.
The necessity to maintain "Climate Citizenship" was also emphasized
where citizens should be the main agents of energy conversion,
and active citizen participation resolves civil complaints,
which leads to the development of the technology industry,
leading to regional and national economic development.
Personal actions plans were presented, so we believe everyone can do it together!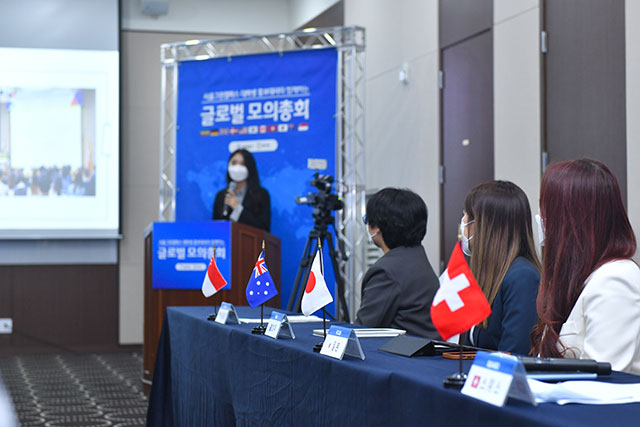 Next, the team leaders became a representative of each country,
and presented the status of Green Campus and environmental problems
and its solutions of Ethiopia, the United Kingdom, Denmark,
Canada, Switzerland, Japan, Australia and Singapore.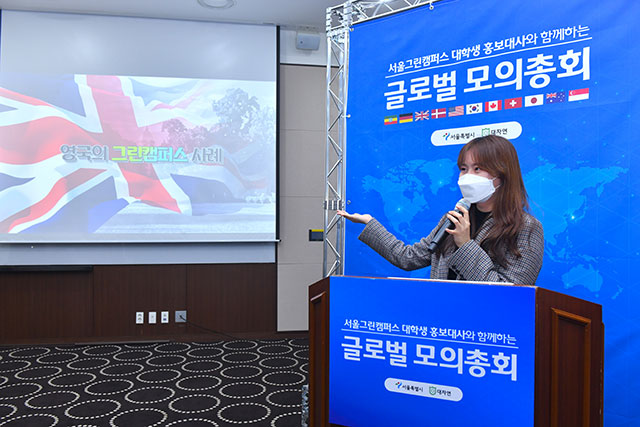 We had a debate on "Problems of Green Campus in S. Korea,"
"Activation Plan of Green Campus in S. Korea" and "Green Campus Policy to be introduced"
by introducing each countries systems.
We had a pro/con debate on
"College students should take action for the vitalization of Green Campus"
or "No, university should take action."
The result was 2 votes for college students and 7 votes for the university.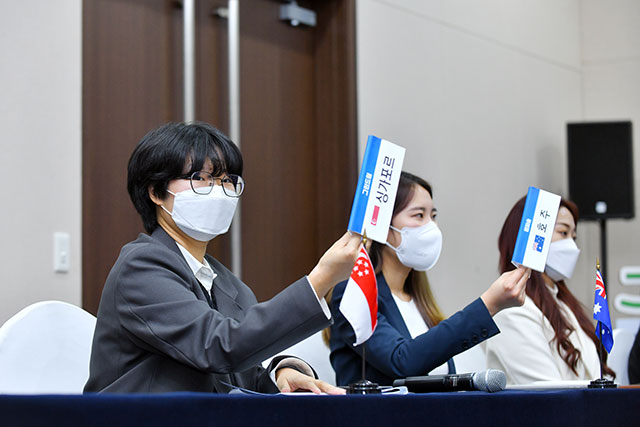 After the first vote, the representatives enthusiastically discussed on the issue.
Let's see how the final vote changed.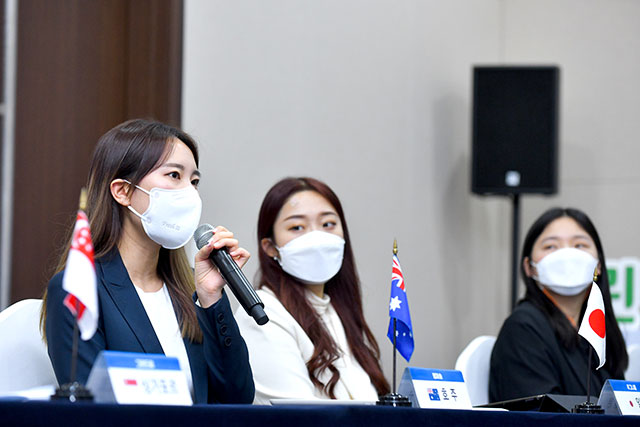 The pro/con debate ended with the result "college students should take action,"
with 5 votes for college students and 4 votes for the university.
Through the Global Summit, we hoped that Green Campus in S. Korea
could actively participate and prepare policies relate to Green Campus.
The activities of the 9th Seoul Green Campus PR Ambassadors is coming to an end.
The students showed great performance through various activities.
Look forward to the activities of the students and encourage their activities until the end!