7. AFFORDABLE AND CLEAN ENERGY

13. CLIMATE ACTION

14. LIFE BELOW WATER

15. LIFE ON LAND

17. PARTNERSHIPS FOR THE GOALS
Environment Forum for International University Students 2019
was held in Korea University!
One Earth, One Chance, a single opportunity of 1.5℃ was given to our planet Earth.
The forum announced the importance of "Special Report on 1.5℃" approved by IPCC
and sought the role of university students.
Meet us through the video!
For more details of the forum, read the article below!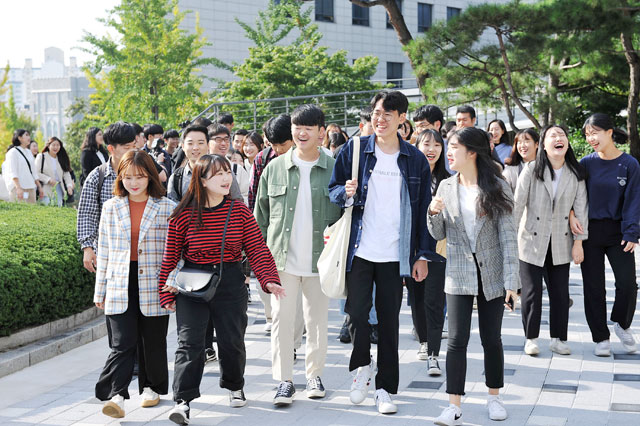 Session 1 / Opening
The forum started with an opening speech by the President of DAEJAYON,
followed by video welcoming speech of Jin-Taek Chung, President of Korea University
and congratulatory messages of the Ambassador of United Arab Emirates,
Bangladesh and Sweden to Korea.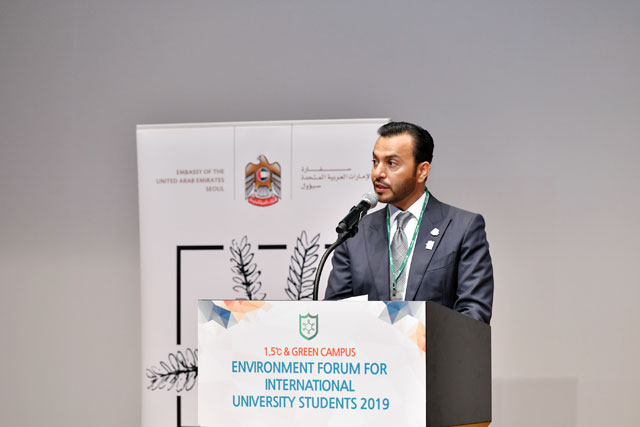 [Photo] Ambassador of United Arab Emirates to the Republic of Korea / Abdulla Saif Al Nuaimi
The forum is a great contribute to the effort made at the national, regional and international levels aimed at the preservation of environment. The forum play a significant role understanding the importance of upholding the era for the future generations. Especially, the vision and mission of DAEJAYON are at the line once announced and implemented in the United Arab Emirates.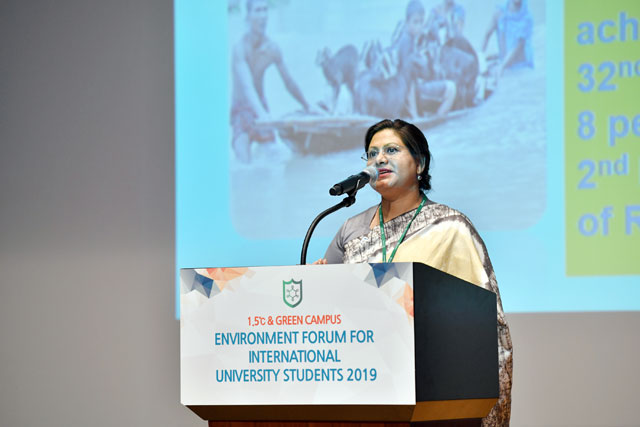 [Photo] Ambassador of Bangladesh to the Republic of Korea / Abida Islam
Bangladesh is among the top ten countries which is severely affected by the climate change. Bangladesh is not responsible for climate change but we are innocent victims. As Greta Thunberg has encouraged environmentalists all over the world. I think you have the power, you have the courage, you have the energy, imagination, creativity to do things that we couldn't do.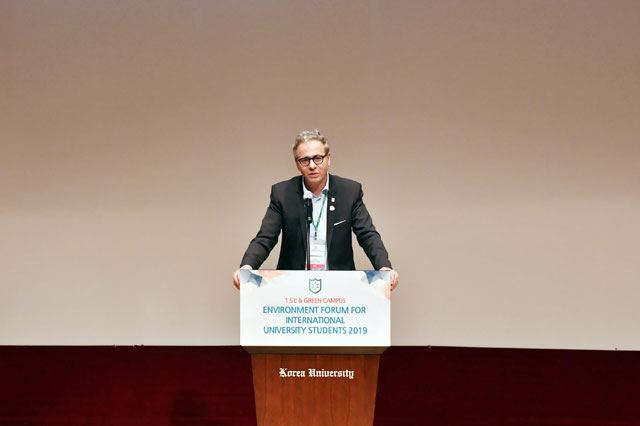 [Photo] Ambassador of Sweden to the Republic of Korea / Jakob Hallgren
I think environmental issues are so topical, so important because of the existential issues that we are talking about. Fantastic to see you all, this energy you are projecting. Since environmental issues are related with our daily lives, we need to address it in order to be able to tackle this challenge. But the good news is that it's not too late to act. There is still a window of opportunity we can use to act. All of you are young students and you have a choice to make. And we, I, who are in the older generation have the responsibility to listen to you.

Session 2 / Expert Lecture
Through the eyes of international organizations, governments and NGOs,
it was a time to seek for the role of university students on 1.5℃ and Green Campus.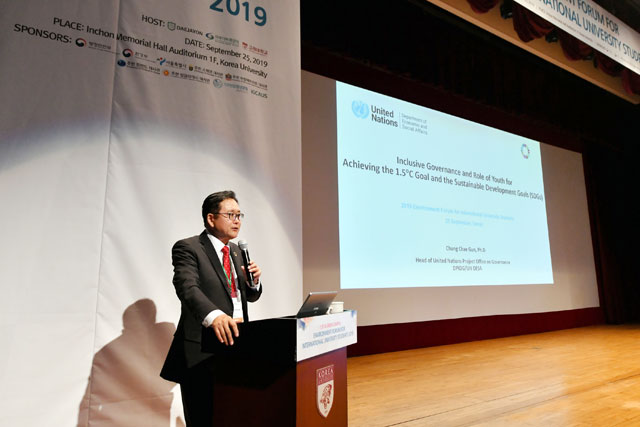 [Photo] Head of UNPOG / Chae-Gun Chung
Mr. Chae-Gun Chung, head of UNPOG, presented on "Inclusive Governance and Role of Youth for Achieving the 1.5℃ Goal and the Sustainable Development Goals[SDGs]." He said that youths are not only suggesting opinions but are being the stakeholders and are actively working together and designing policies and taking action. And he emphasized that now is the time for the youths to take more participation. Youths are contributing to the SDGs Goals through awareness raising, behavioral change and innovative ideas. Also, as youths have great influence on online, they have the power to make great influence through it. Finally, he encouraged the youths as VIPs meaning Very Important Persons for Sustainable development.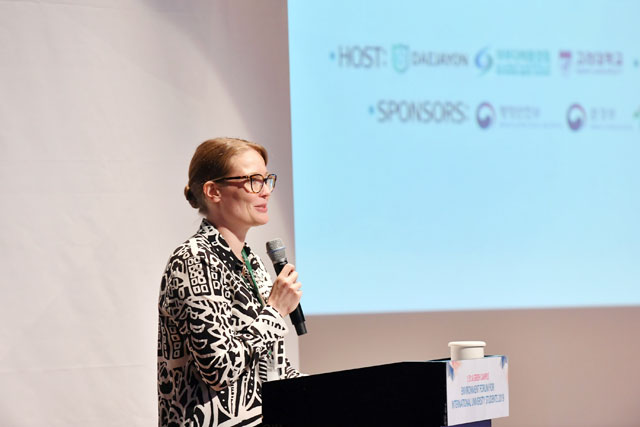 [Photo] First Secretary of the Embassy of Finland / Jaana Montonen
Jaana Montonen, First Secretary of the Embassy of Finland, said that Finland as an arctic country is vulnerable to climate change, and because of climate change Finland is at risk to lose four seasons and the habitats of animals are shrinking. To overcome these problems, she introduced the efforts of the government and the people of Finland are aware of taking action. So when the people make an action there will be a great change. Also, it was impressive that NGOs like DAEJAYON are leading the change in environment and the Green Campus Movement is a good example to make the local society take action.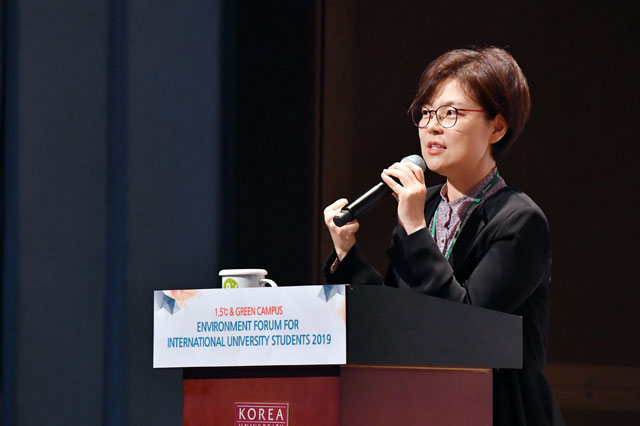 [Photo] Director of Energy Efficiency Promotion Division, Seoul Metropolitan City / Yeon-ji Kim
Yeon-Ji Kim, Director of Energy Efficiency Promotion Division in Seoul Metropolitan City, introduced on the Green Campus Project. University has many stakeholders but no owner. There are many buildings using a large amount of energy so it is difficult to reduce energy consumption. Even so there were many actions to reduce energy by Green Campus Association, chancellor group, campus environmental club, etc. Also, she shared the Green Campus and 1.5℃ Performance held at Environment Day, Green Campus Map made by university students emphasizing the importance of the actions of university students.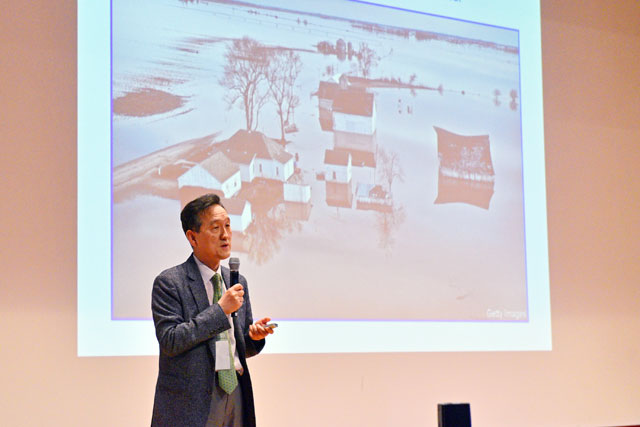 [Photo] Chairperson of WWF Korea / Sung-Hwan Son
Mr. Sung-Hwan Son, chairperson of WWF Korea, said that the environmental problems facing the world and their severity are so great that some scientists say the Earth has already passed its critical point. Also, he said that the social environment is important to product environmental activists like Greta Thunberg, and suggested examples and ways to effectively respond to climate change in the university student's perspective.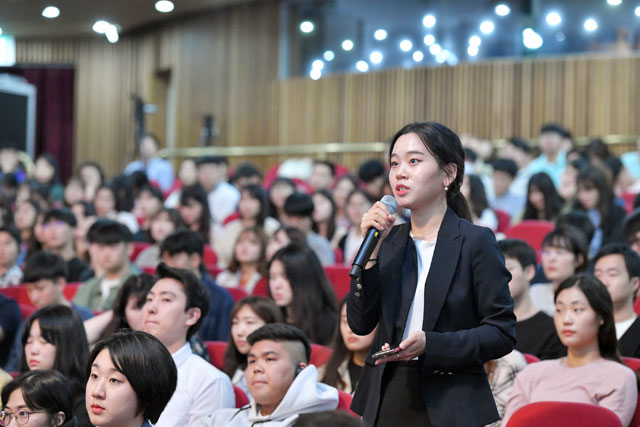 Session 3 / Green Community Activtity Result Presentation
Two teams from Korea and one team from the United Arab Emirates had a presentation on their Green School, Green Campus and Green World activities. Also BigWave, a youth community for climate change, introduced about Green Campus around the world and presented the current status of Green Campus in Korea.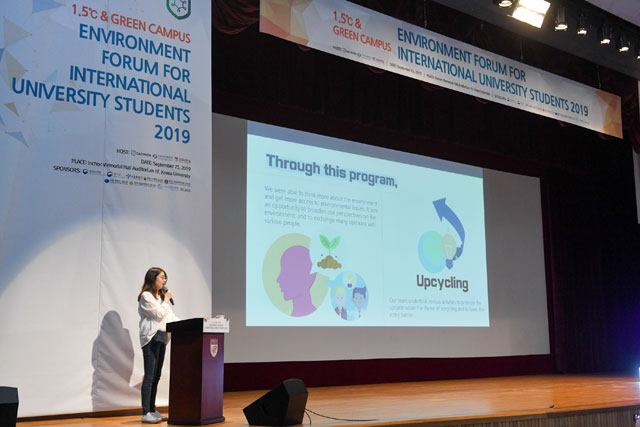 [Photo] KOREA - Price Less / Activity Result Presentation on Upcycling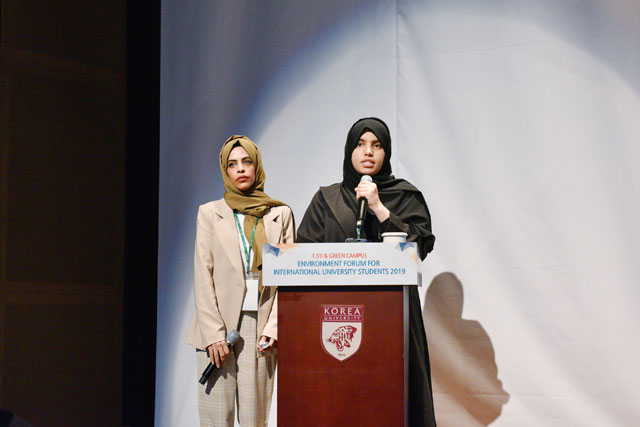 [Photo] UAE - Eco Fighters / Activity Result Presentation on E-waste and Environment VR Game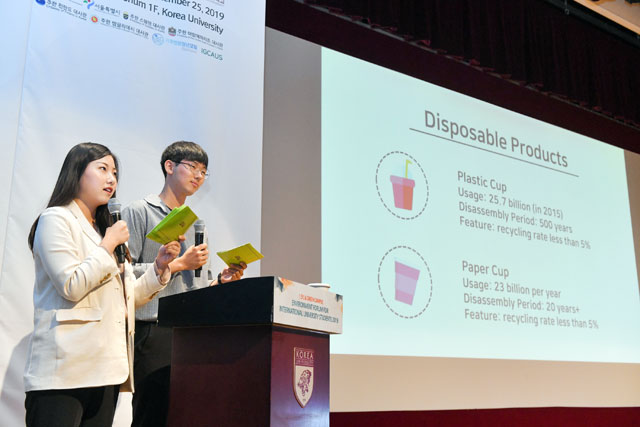 [Photo] KOREA - EDUs / Activity Result Presentation on Eco-marketing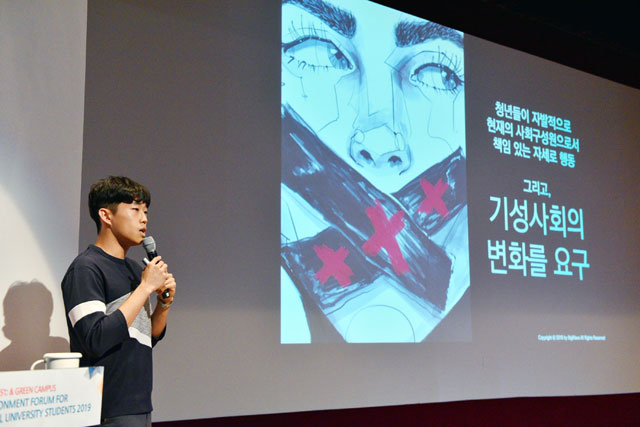 [Photo] BigWave / Presentation on the Role of University Students for Green Campus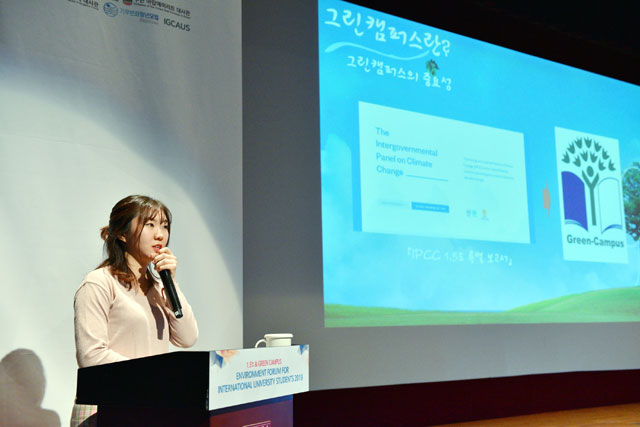 [Photo] BigWave / Presentation on Global Green Campus
Unit Event
This year there were many thing to see and experience, compared to other forums.
Experience booths were ran by environmental clubs making action with DAEJAYON.
Including DAEJAYON's Plastic Free Campus Campaign,
Seoul Green Campus University Student PR Ambassador, Korea University PR Ambassador,
and environmental clubs from Singu College, Dongguk University,
Kookmin University, Kwangwoon University participated.

□ Plastic Free Campus Campaign
□ Seoul Green Campus University Student PR Ambassador /
Do it, Make it! Green Campus for 1.5℃
□ Korea University Public Ambassador / Green Campus for 1.5℃
□ Singu College / The Story of Climate Refugees
□ Dongguk University / Campaign for No Leftover Food
□ Kookmin University / Campaign for Paper Reduction
□ Kwangwoon University / Campaign for Energy Saving