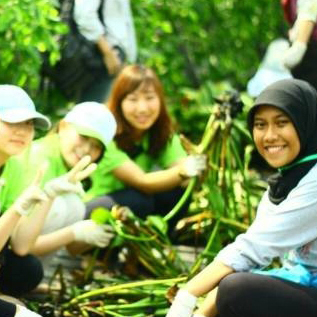 Students lead lessons for planet's future

Daejayon fosters environmental leaders to fight against climate change

2012.04.04

|

Internet

|

The Korea Herald

DAEJAYON's Environmental Reporter Interviewed the Ambassador..

Three college students visited the Embassy of Germany in Seoul and had an interview on environmental policies with H.E. Ambassador Hans-Ulrich Seidt. They also ..

DAEJAYON, the Key Organization of Green Campus Movements

DAEJAYON signed an MOU with Gyeonggi-do, Gyeonggi-do Association for Green Campus Initiative and Green Korea United in order to spread Green Campus Movements.

2012.03.06

|

Internet

|

Environment Daily News

To the World ... MOU for Green Campus

Gyeonggi-do, Gyeonggi-do Association for Green Campus Initiative, Green Korea United and DAEJAYON signed an MOU for Green Campus.

2012.03.05

|

Internet

|

News Korea

Disbanding Ceremony of YCCA

The disbanding ceremony of the 3rd YCCA (Global Climate Change Ambassador) was held by the British Council at Gwanghwamun Garden Place.

2012.02.01

|

Internet

|

Korea NGO Newspaper