8th Agenda : Cities with Green INFRASTRUCTURE
Main Topic of The Campaign : Current Status & Future Direction of Green INFRASTRUCTURE
Hello everyone!!
We are ICLEI Supporters Team 'G.ty(Green City)' in Kyung Hee University!
We proceeded 1st Campaign at City Hall on 2015.03.22
and 2nd Campaign in front of Euljiro on 2015.04.14.
The 1st Campaign
G.ty(Green City) visited the city hall for the promotion of ICLEI Supporters activity!!
'Hope-Sharing Tree Event' was being held at city hall~
G.ty proceeded the campaign next to the 'Hope-Sharing Tree Event' booth!!
The topic of the campaign is "LOW CARBON CITIES".
The activity we have prepared is 'Use Eco-friendly Product!!'.
G.ty planned the campaign to investigate how often citizens use the eco-friendly products
like eco-bags or the tumblers!
And to suggest them to use the eco-friendly products!!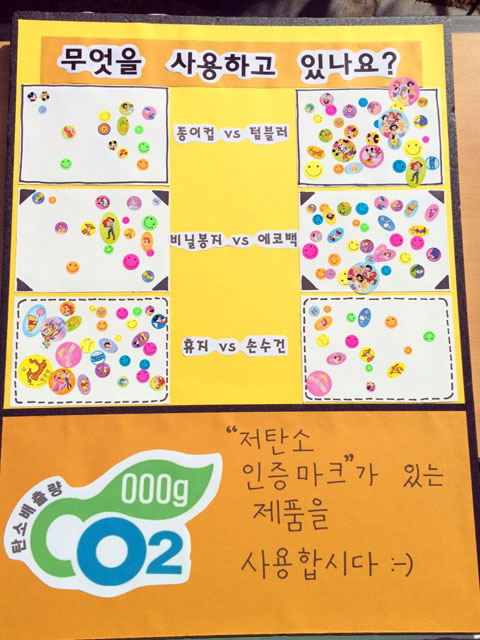 First, we explained what ICLEI is and the concept of
LOW CARBON CITIES to the citizens.
And then, we investigated whether they use the eco-friendly products
in daily life or not!!!
We planned the drawing activity that people can draw the painting freely
on the white eco-bag with the acrylic dyes.
We were worried a bit because it was so windy outside.
But lots of people showed great interest
and participated in the activity.
Ta da!~ what a masterpiece!!!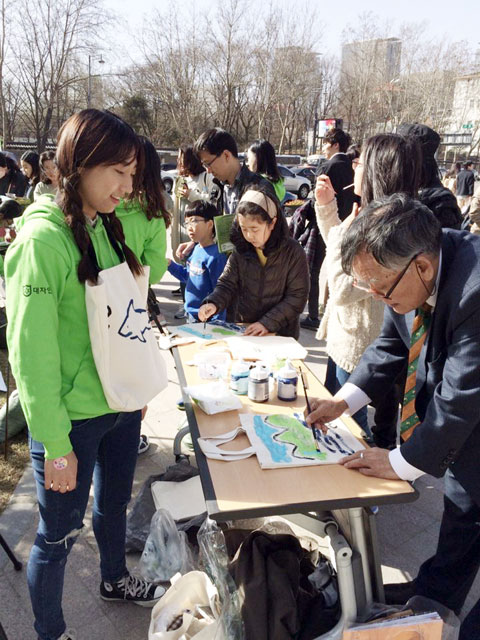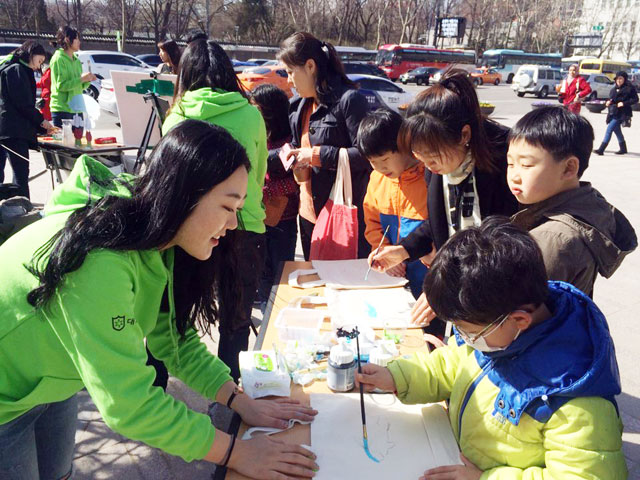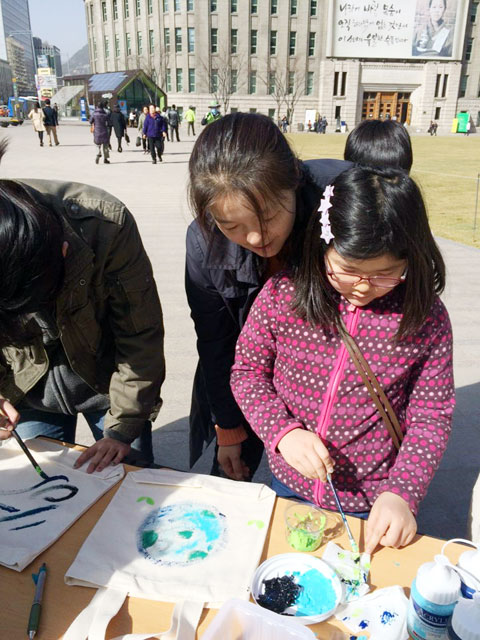 Especially, kids loved it!!
(Kids drawing out their imagination♥ So lovely♥)
A lot of citizens made lovely eco-bags and listened to our explanation
about the ICLEI & LOW CARBON CITIES.
Thanks to the enthusiastic participation of citizens,
the 1st Campaign of G.ty was completed in success.
People were using eco-friendly products in thier daily life
more than we thought.
So proud! :-)
The 2nd Campaign

The 2nd Campaign too, G.ty proceeded the supporters activity
in the topic of LOW CARBON CITIES.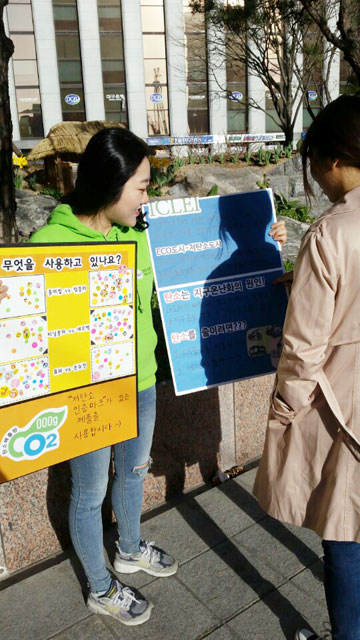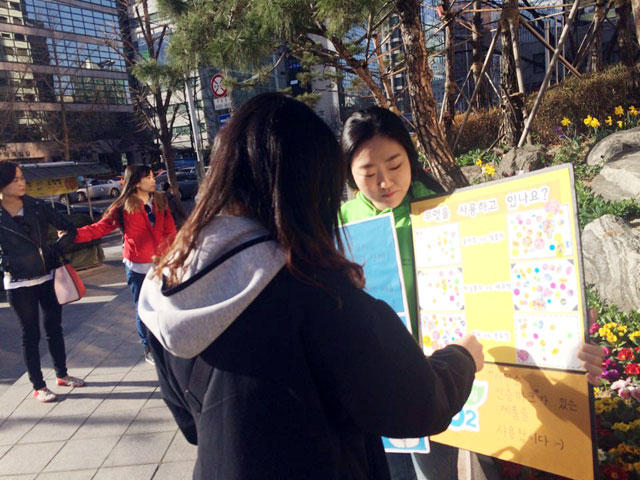 Like 1st Campaign, a lot of people participated in the 2nd Campaign.
활동을 하면서

During the activity, we could see quite a lot of people
with coffee tumblers & eco-bags with beautiful designs.
In the result of the survey conducted during 1st Campaign,
lots of people used tumblers and eco-bags.
But not the handkerchief.
G.ty reflected the result of this investigation.
So, we emphasized to use the handkerchief in 2nd Campaign.
We hope that our Campaign may urge people
on the interest of the eco products!!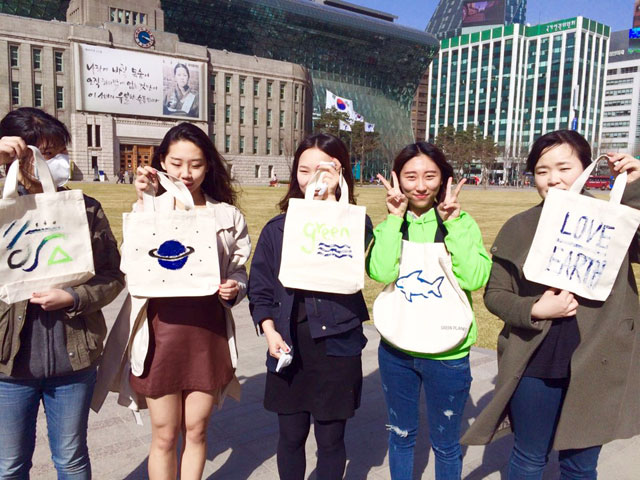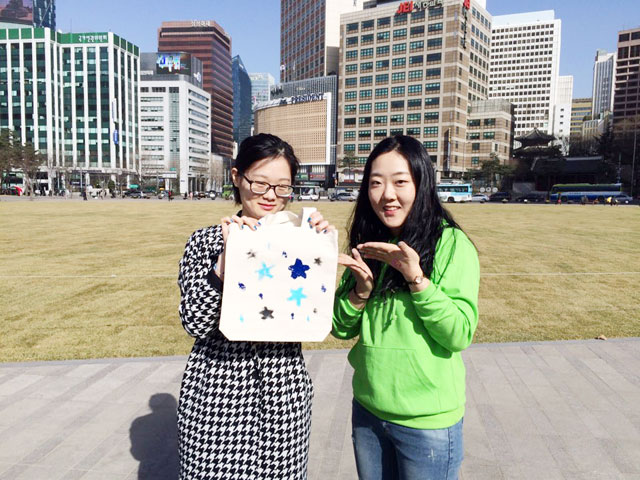 These are The ICLEI Supporters Activitys of G.ty!