7. AFFORDABLE AND CLEAN ENERGY

11. SUSTAINABLE CITIES AND COMMUNITIES

13. CLIMATE ACTION



DAEJAYON and Korea Energy Agency Gyeonggi Branch signed an MOU
on "Minimal Energy Campaign" to raise citizens' awareness on carbon neutral society.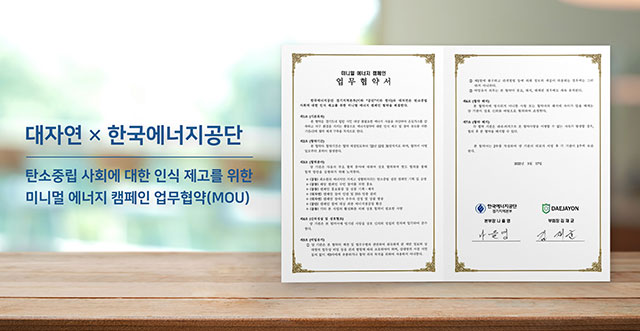 △ Slogan, "Use the Least Amount of Energy"
△ June 5, Goodnight Set Top Box Campaign in Commemoration of World Environment Day
△ August 22, Minimal Energy Game Campaign in Commemoration of Energy Day
△ Minimal Energy Contest
Through this agreement, activities will be conducted to reduce greenhouse gases
by cutting off unnecessary energy use of the citizens in Gyeonggi-do.
We ask for your interest and participation in the Minimal energy Campaign
to raise awareness on energy conservation and induce the participation of the citizens.