11. SUSTAINABLE CITIES AND COMMUNITIES

13. CLIMATE ACTION

15. LIFE ON LAND

17. PARTNERSHIPS FOR THE GOALS
Today at the Head Office of YES24,
[Book Donation Ceremony for Gibook & Take Green Campus Book Cycle] was held.
"Gibook & Take" Project is a Green Campus Activity that cycles resources
by installing bookshelves in campus, establishing book recycling system
to help students freely exchange various books that they don't use any more
such as textbooks and environmental books.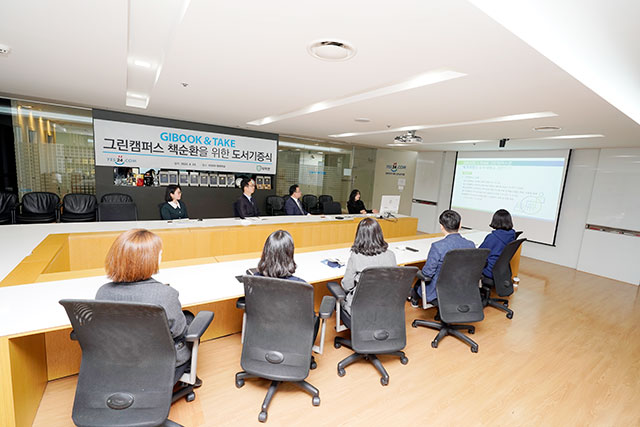 YES24 donated about 5,000 used & new books for stabilization and activation of this Project.
Before the Book Donation Ceremony,
we introduced DAEJAYON and had time to watch our activity videos.
Donated books will be kept at seven Universities in Seoul
such as Seoul Univ., Korea Univ. and KAIST Seoul Campus.
Also various Green Campus Activities are also planned this year.
We believe we made a step forward to construct student-directed Green Campus
with this Book Cycle Campaign.