Orientation for Global Green Korean Wave Green Community Project
was held with 5 Korean teams and 10 Overseas teams!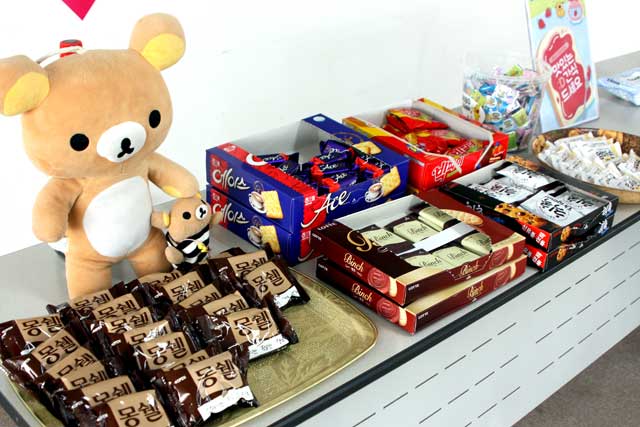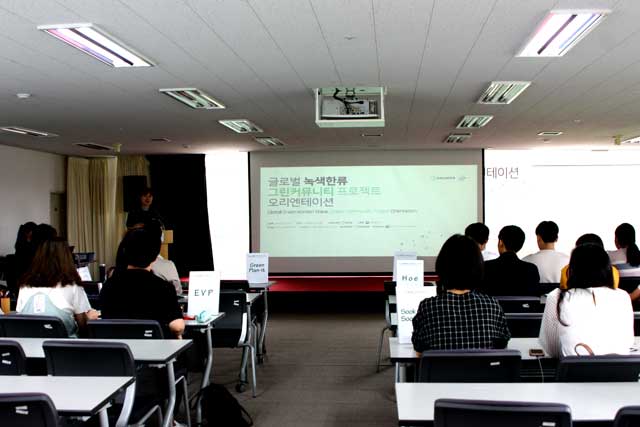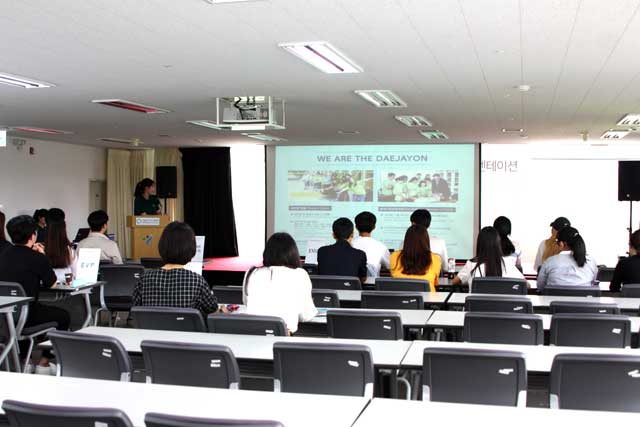 Before the orientation, there was an introduction of Daejayon.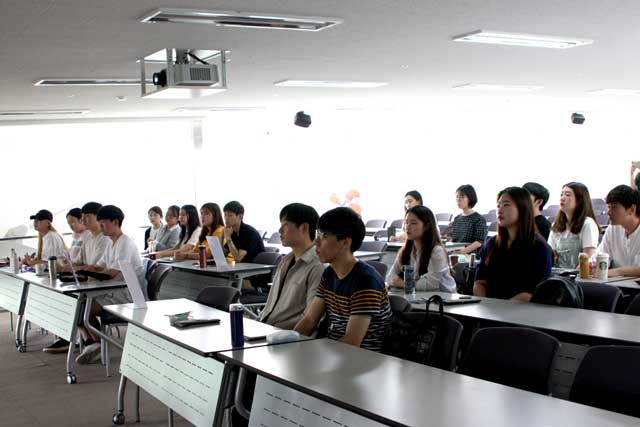 5 Korean teams participated !
The Overseas teams had a self-orientation in their own countries,
by the reference sent!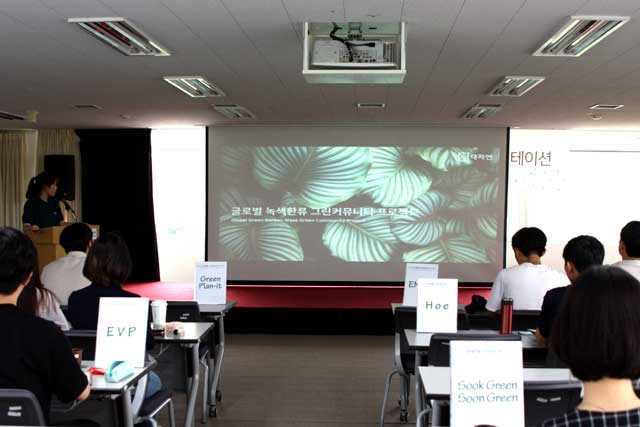 Following was the orientation.
How did the Global Green Korean Wave Green Community start?
It started to grow global university student environmental leaders and to share the environmental culture with international university students!
Each team carries out their environmental activities in their countries
and share their activities through online by English.
They can share the things that were good,
things for complementary and things to learn from each other.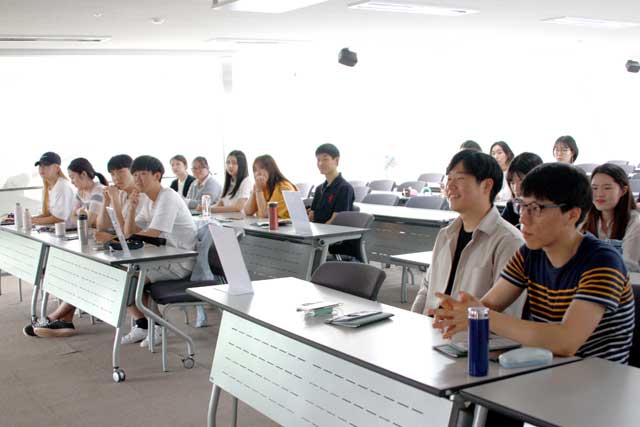 We had time to introduce each team
and the activities that they are planning to carry out.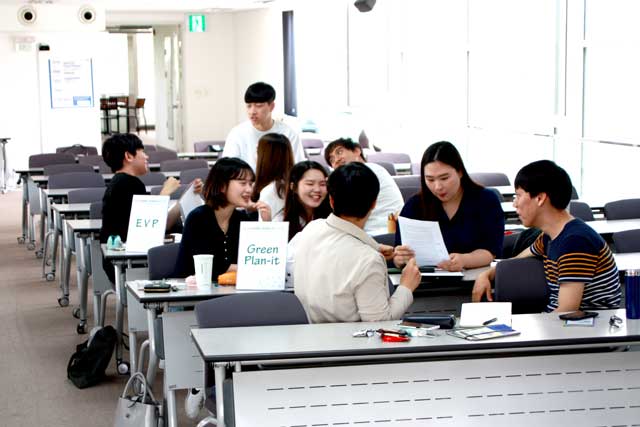 Before presenting there was some time to rearrange the slogan and future activities.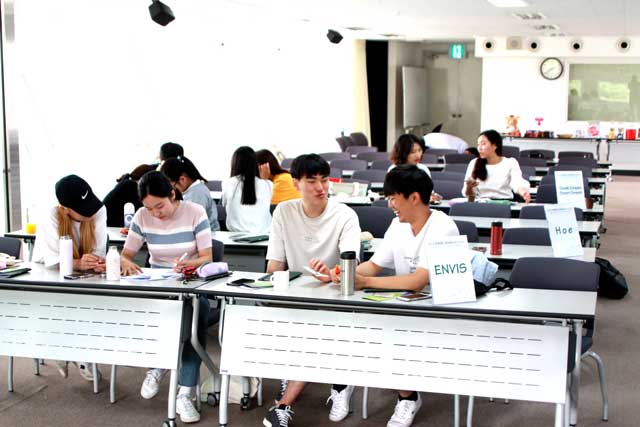 Can you feel the passions of each team?
Then let us introduce each team ~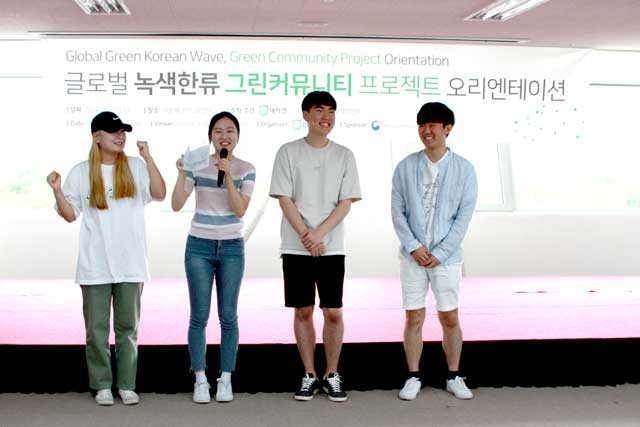 ENVIS, environmental academic club from Kyunghee Univ.
Their activities will be changing the thoughts of people who are unconcern
with the environment and announcing environmental problems.
With the Green School and Green Campus activities,
they are to inform about Eco Labelling and Green Card.
Green World activities will be carried out in Hangang
to aware people of the waste in Hangang!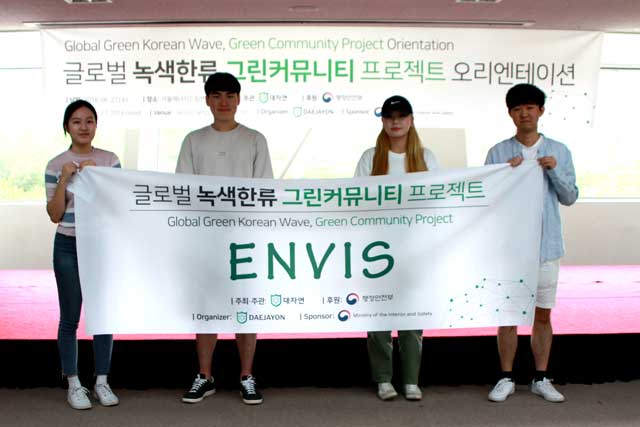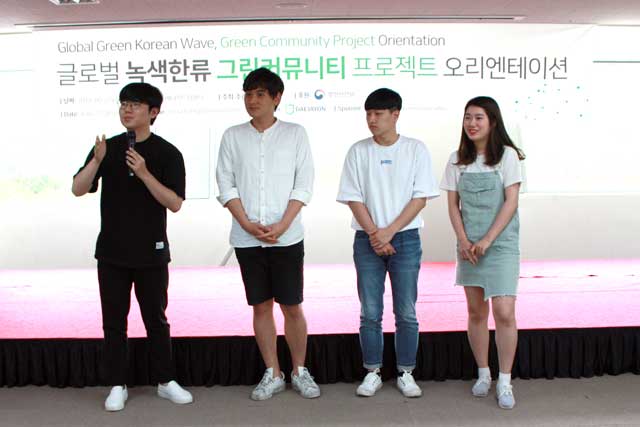 E.V.P, Environmental View Point
Many people think that the environment is another world, not closely related to us. So by educating people that the environment is closely related to us, they will try to change people's point of view!
With Green School, Green Campus and Green World activities,
first understanding the point of view according to age
they will make effort to change people's view point.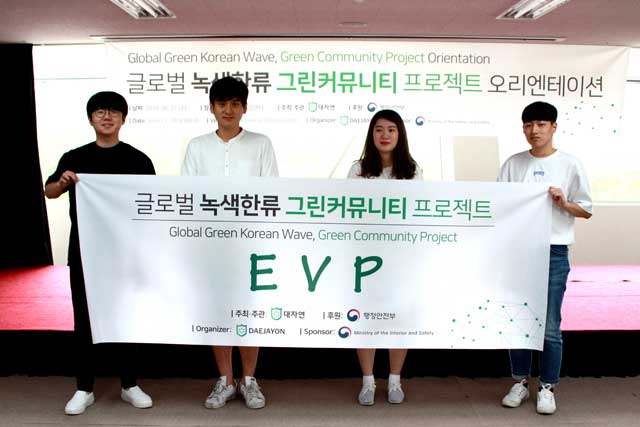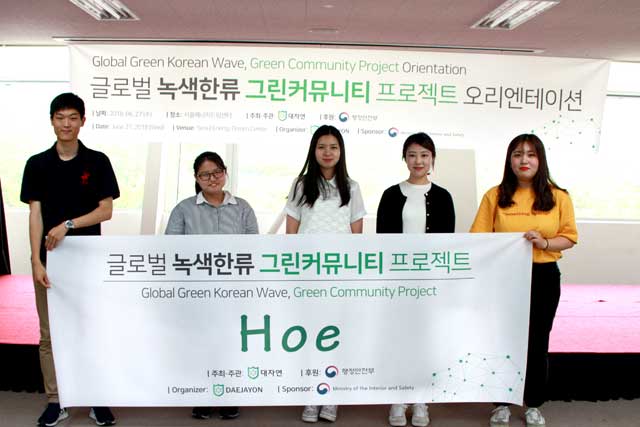 Hoe, ho~ the heart to care for the environment
With environmental cleanups in the base of the activity,
they are planning to receive questionnaires
to see people's awareness of our environment!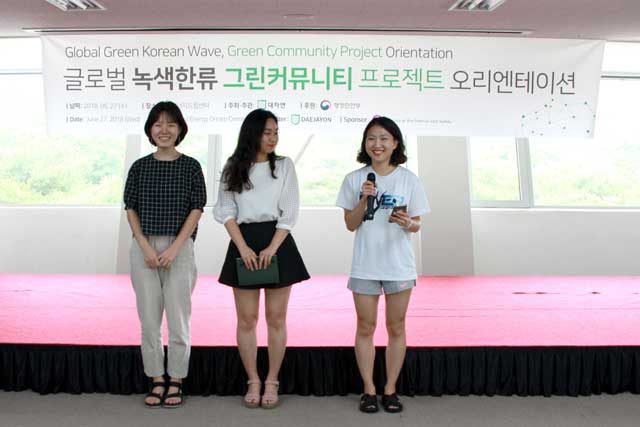 Sook Green Soon Green, environmental club from Sookmyung women's Univ.
It has a meaning that the activities of Sookmyung Univ. students
will soon make a green earth.
For Green Campus activities, they planned a project to start from myself
and give good influence to people next to me.
Green School activities will be carried out
by having Energy Camp with teenagers, with the cooperation of public office.
Also educating kindergarteners in Sook Myung Nursery.
And for Green World activities, using the Environmental Doomsday Clock
they are planning to aware people about the environment
and an experience activity making Eco bags by badges and stamps.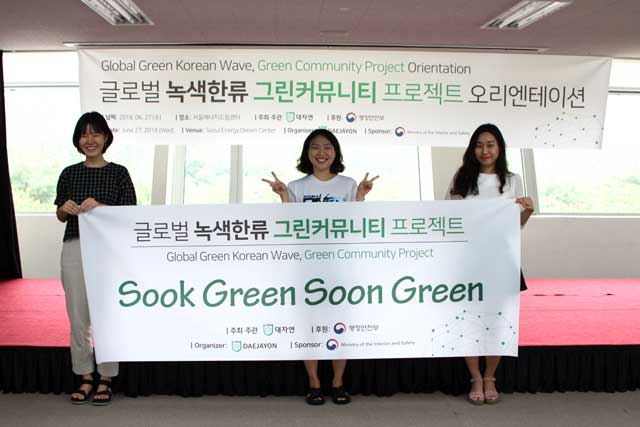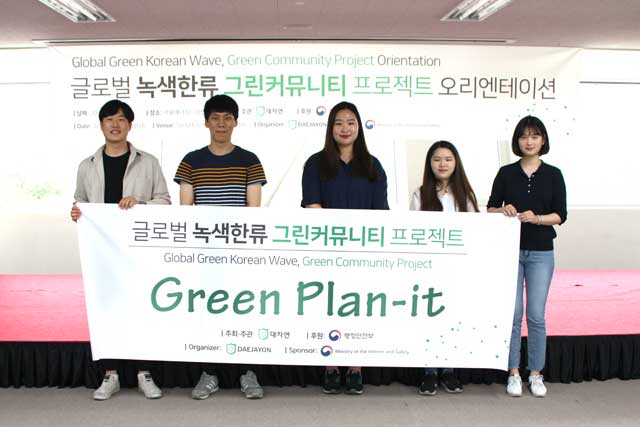 Green Plan-it, (ambiguous) also sounds like Green Planet
It means that Green Earth is made and planed by no other than University students.
When we say conservating the environment,
it was like locking the stable door after the horse is stolen.
The cleanups were carried out after the environmental destruction in our daily life.
So among many environmental problems,
they planned to aware people of the reckless use of disposable plastic cups
and make people take action to reduce plastic usage and plastic up-cycling!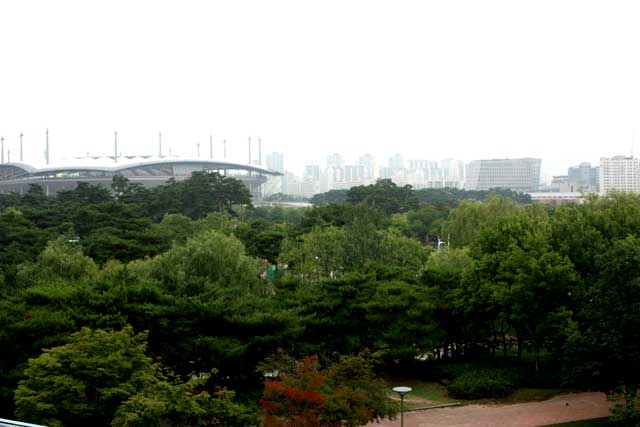 The weather today was clean and bright~
After a short break, with the subject
"How can we make university students in the world to take constant interest in the environment and take action together?"
we had a conference by teams.
To the best team ecofriendly soap-'charchoal soap for sebum control' was given~!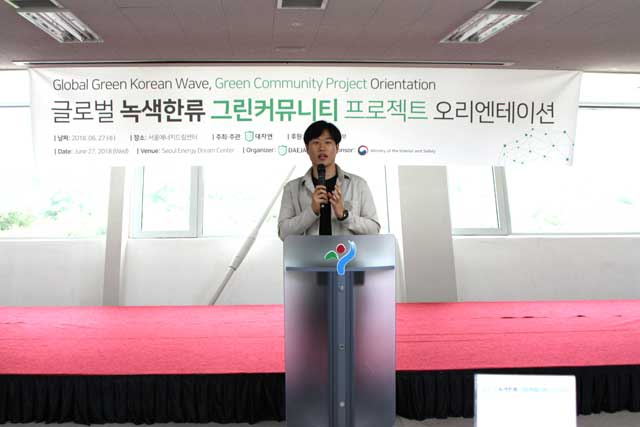 Green Plan-it
1. Inserting pictures in products and places to express environmental
destruction visually
2. install waste bins and expressing the amount of environmental
destruction through the size of the waste bin
ex) little bin - compared, environmental damage is little
big bin - environmental damage is big
3. Just like an Ice Bucket Challenge, posting using tumbler on SNS and
nominating others.
4. Changing your profile to ecomark, or environmental color (ex. green)
5. Choosing a day and do environmental activity
ex) University - using reusable paper day
Cafe - using mug cups in store, tumbler when take-out
6. Making a obligation for environmental activities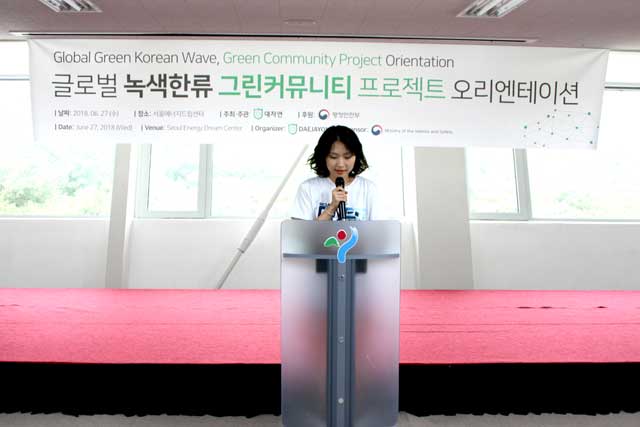 Sook Green Soon Green
1. All university students using ecohandkerchief
ex) in Sookmyung women's university,
the school hands out handkerchiefs but it is not well used.
So there must be a way to make people use it,
for example putting stickers about using handkerchiefs.
2. Giving awareness to people about environmental problems.
ex) microdust problems, usage of tumblers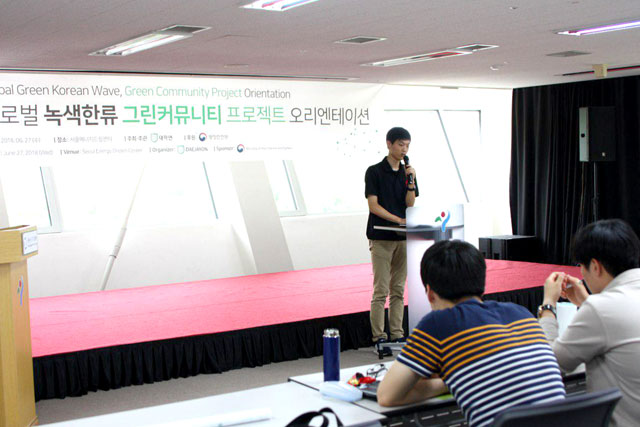 Hoe
1. Based on the idea that people save water or energy if there is a sticker about it, putting environmental conservation stickers where there are no stickers.
2. If I act first, the perceptions of environmental conservation will spread from closest friends to people nearby.
3. Having environmental talks with friends will make them think environmentally
4. Using mass psychology, if recycling bins are equipped in universities people will start to recycle.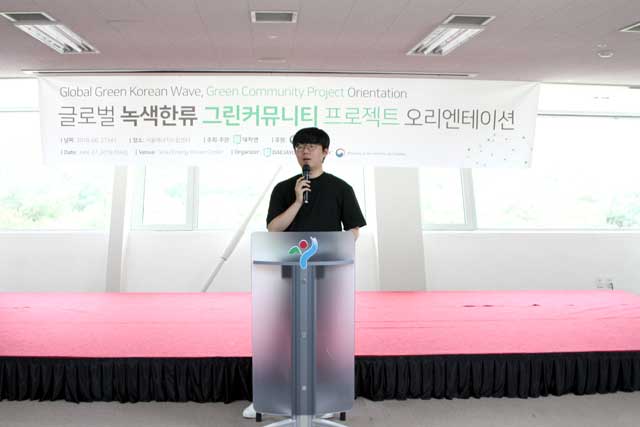 EVP
1. Introduction of system helpful in employment
ex) To university student's the biggest issue is find a job.
So students will take part in environmental activities for employment
2. Like eco-mileage introducing international systems in UN, EU
ex) Using eco-points in university scholarship, job qualification
Starting like this continuous environmental activities can be done.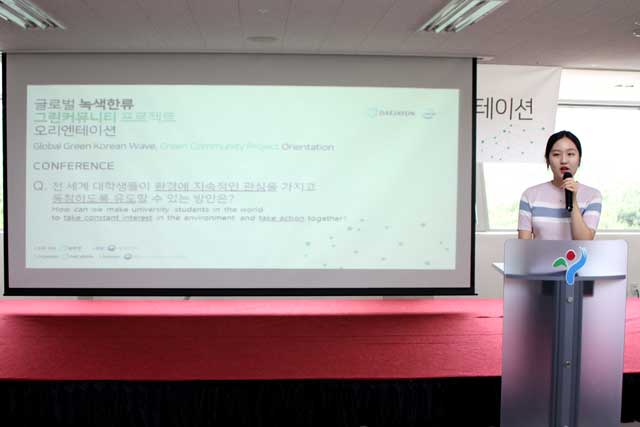 ENVIS
1. People have no interest is there is no benefit. So make a reward system
ex) In Korea there is a Lottery for plebiscite when certified for voting.
Like this giving rewards when participating in environmental activities
2. Uploading environmental activities on SNS
3. Branding of environmental conservation companies
4. Giving money when people watch environmental Ads
5. Make many environmental events
6. Giving rewards when participating in environmental activities in augmented reality games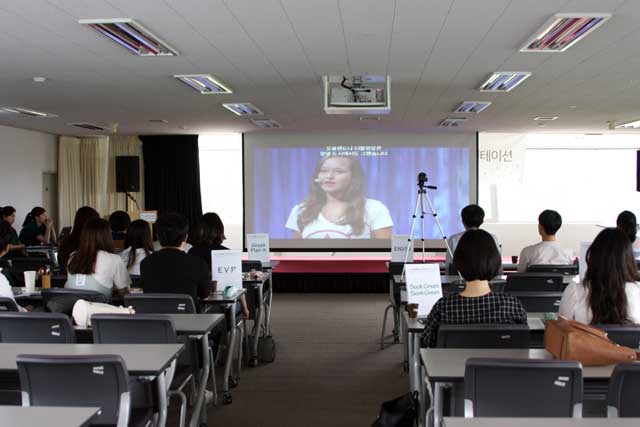 Lastly, two video clips from TED were shown
to help the environmental activities that are to be carried on.
University Students, who are to carry out environmental activities
to teenagers, university students and citizens!
Looking forward to the environmental activities
that are to be carried out with the love of the environment!
Green Community Project, Fighting!!