August 22nd Thursday when heat still severe!
Here is the square in front of the Seoul City Hall.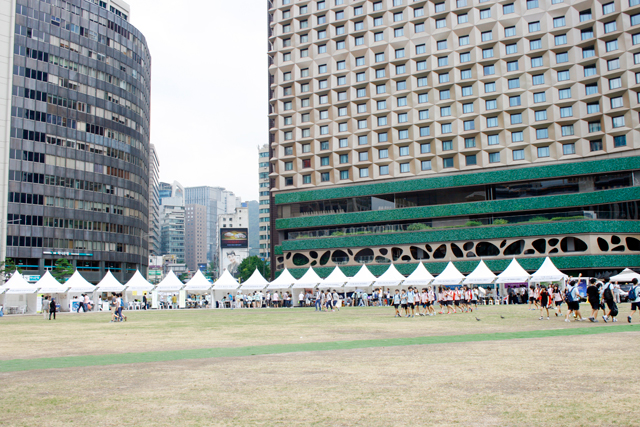 The reason why Daejayon visit here is an important environmental festival is held here!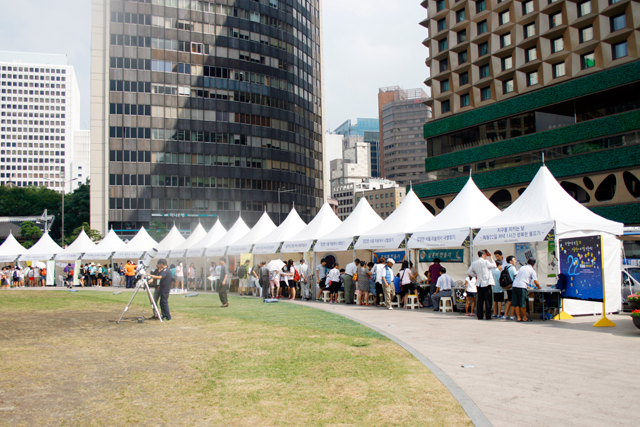 It is the 10th Energy day festival 2013.
Energy day festival has been held every year by Korea NGO's Energy Network since 2004.
And this year, the festival was held with the subject of 'turn off the light, turn on the star. 2013-Everything is energy!'
Daejayon participated in this festival. This festival was hosted by the 10th energy day promotion committee and organized by Korea NGO's Energy Network.
Daejayon and KGCAUS who carrying out energy saving campaign ran two booths in this festival.
Let's Go!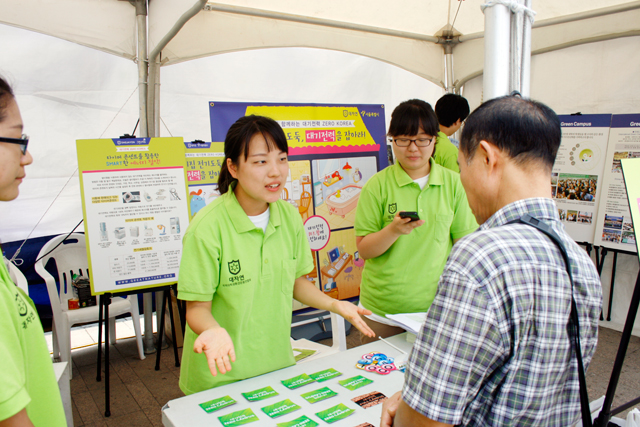 Standby Power Zero Campus Campaign with KGCAUS!
*Standby Power Zero Campus Card Flipping Game*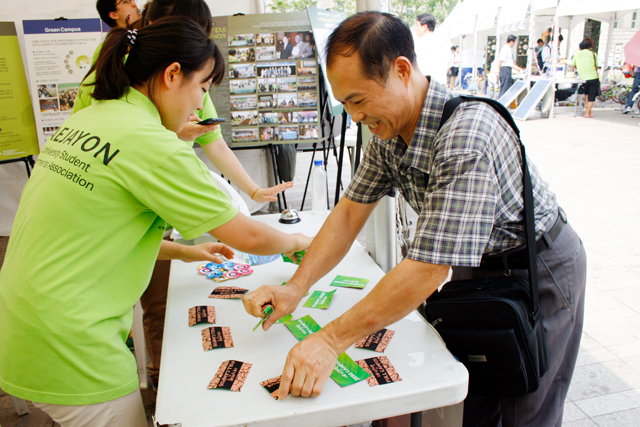 There are two side of the card, 'Standby Power Zero Campus' on the greensward side and 'Standby Power Full Campus' on the drought devastated side.
How to play this game is to flip more cards in 20 seconds.
They showed much enthusiasm on the card flipping game.
who is the winner?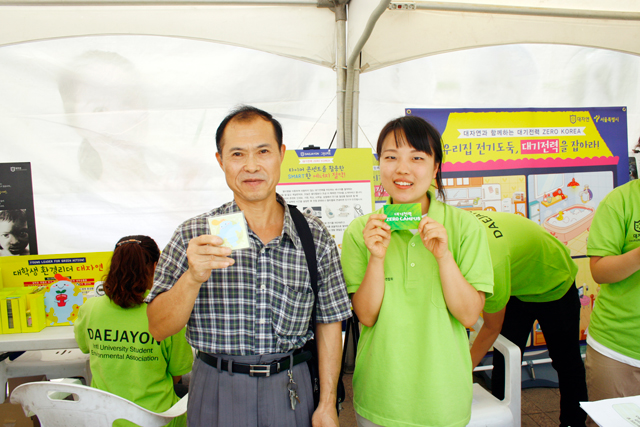 Citizen won!
The prize is the Jayon-ee Post-it~!
So crowded~!
Many people participated in card flipping corner with interest.
Daejayon booth was full of citizens.
So many citizens participated in Daejayon booth that it was really packed.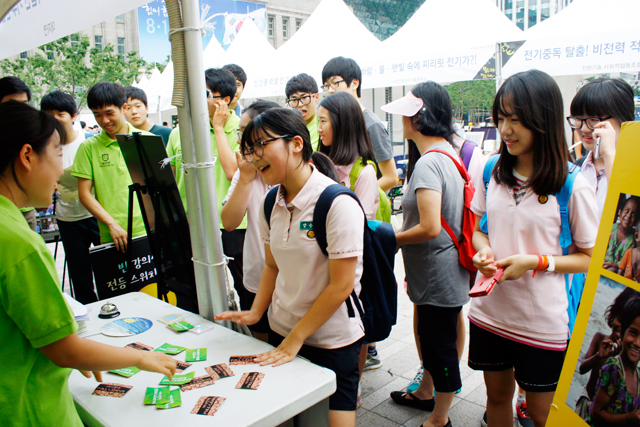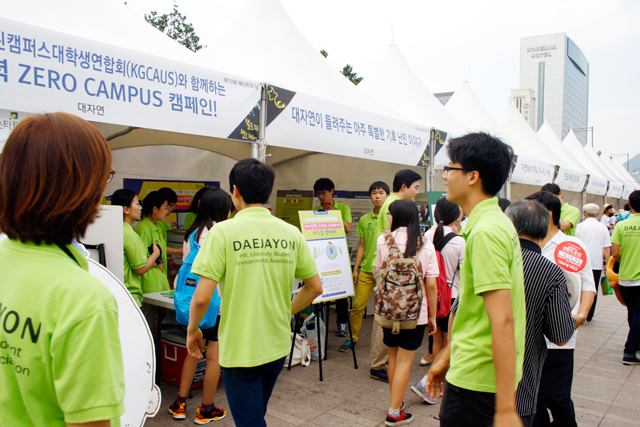 In order to turn over more cards in limited time, we should keep time strictly!
Stopwatch and a bell help the game.
A tense moment…. Tension is surrounding them in their preparation.
From students to youngster and housewives.
Booth of Daejayon has a great popularity!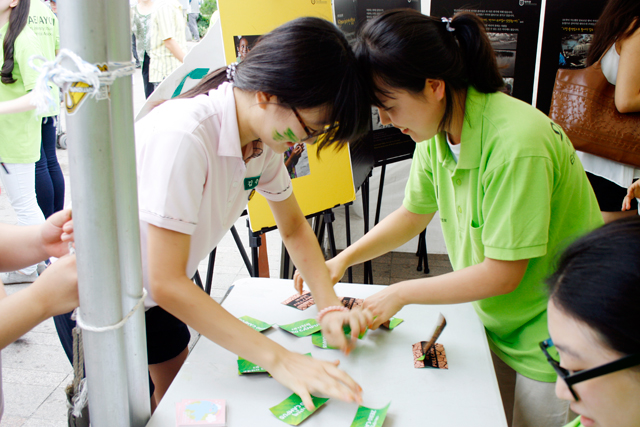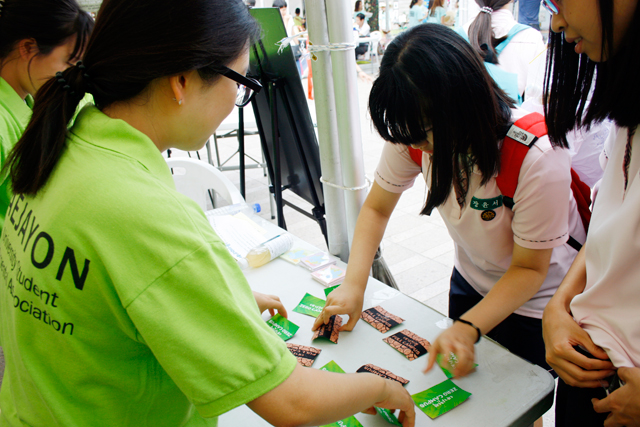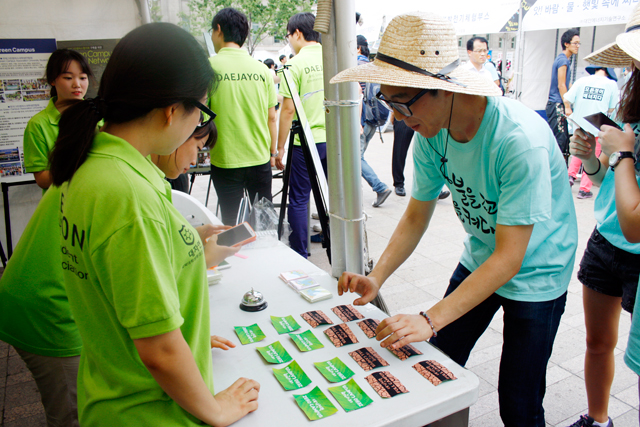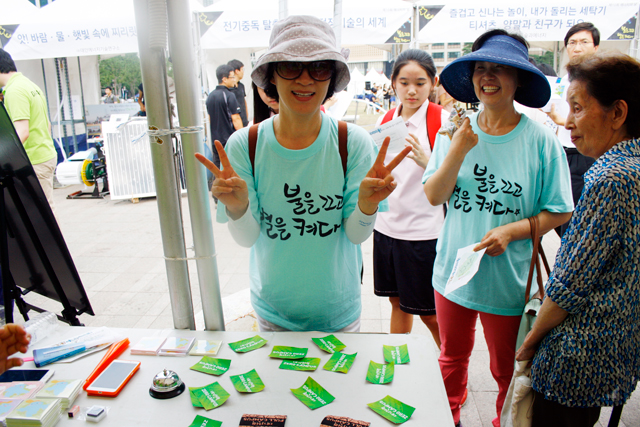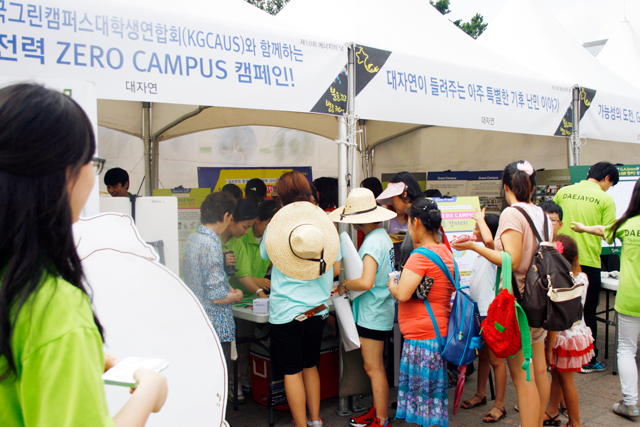 Oh, that's right! Children also participated actively.
It is complete defeat of Yu-sun to see that there are more green cards.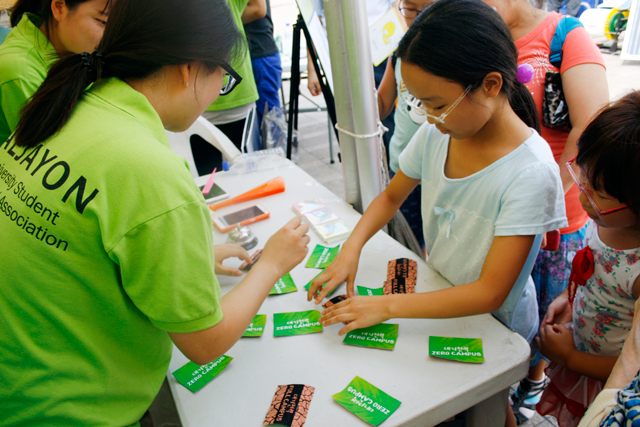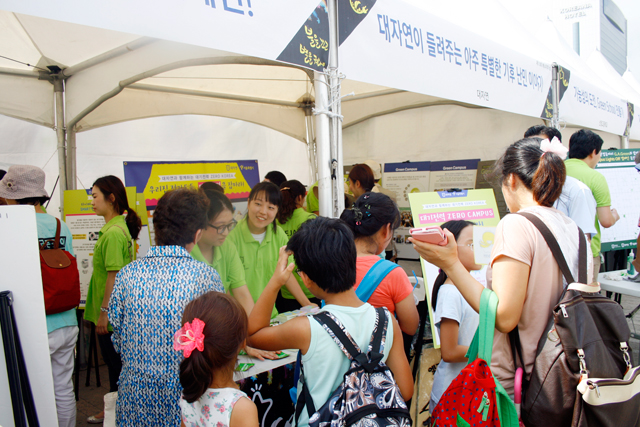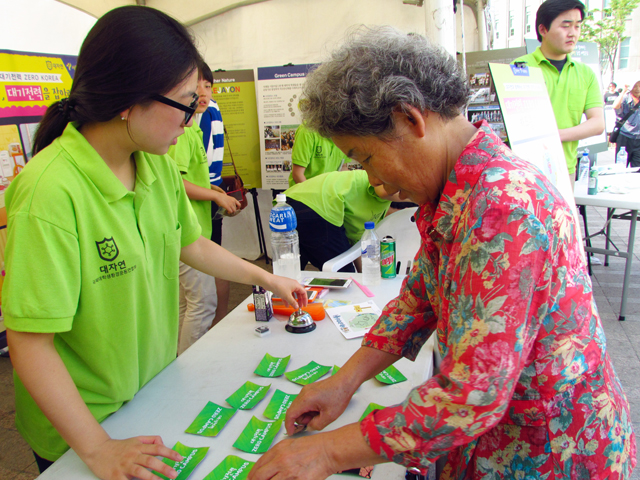 Make 'Standby Power ZERO CAMPUS' in 20 seconds!
Winner received prize and they had a lot of smiles in their face.
With your passion that you had in the game, please join us to make standby power ZERO in your house, campus and office!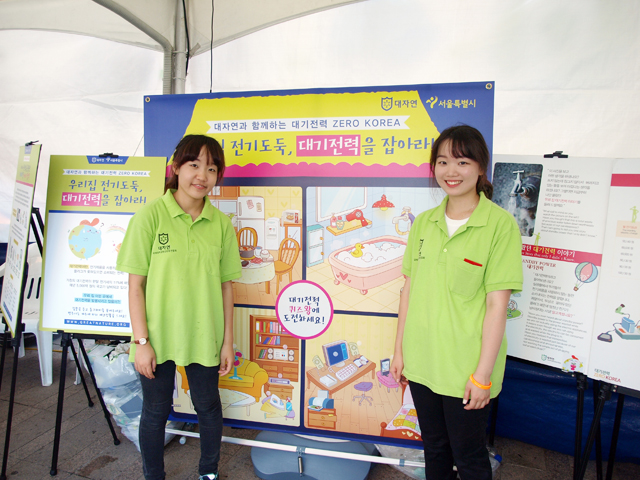 *The Electric Thief! Catch Standby Power! *
Here is the second game corner! Welcome.
This game is played with the large panel behind.
We will find home appliances which consume standby power in kitchen, bathroom, living room and room. And we will guess who consume much energy.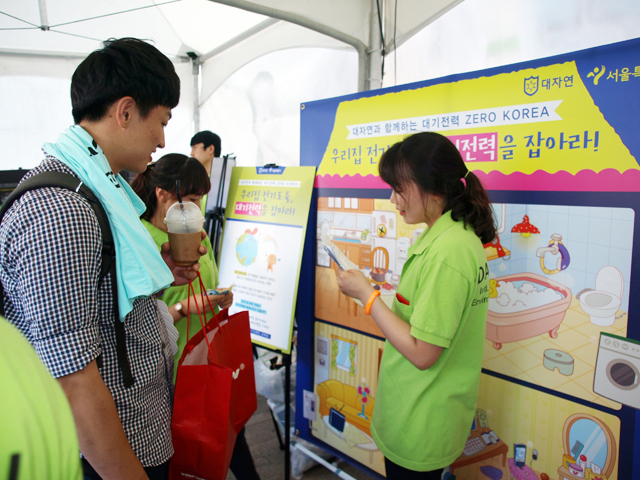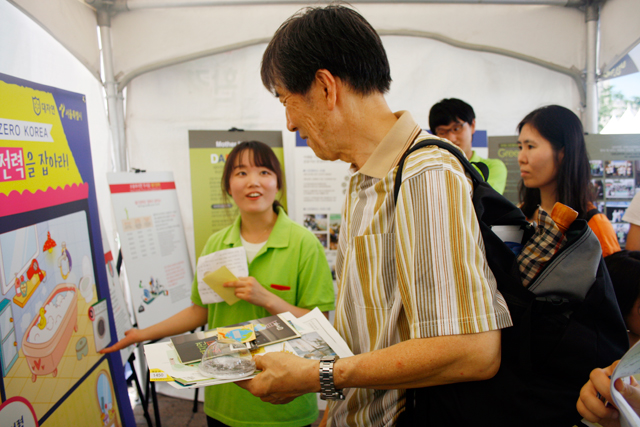 We could learn what kinds of products consume standby power.
And we could learn how much standby power is spent.
We can see that students are considering.
Guess the ranking of standby power consumption from 1st to 5th.
And guess whether the appliance consume standby power or not by O and X.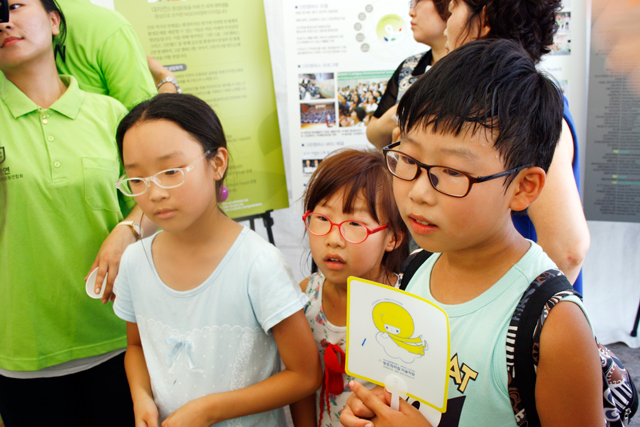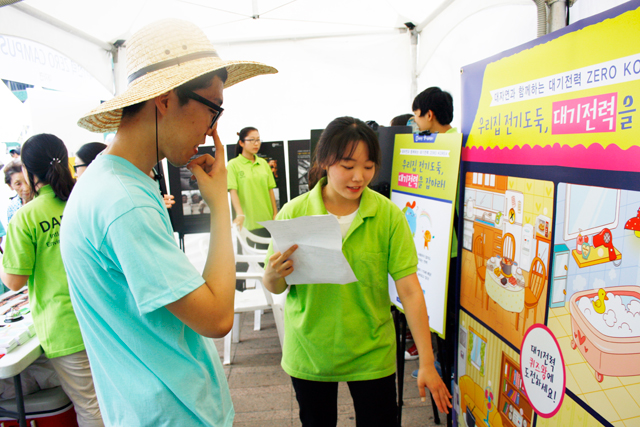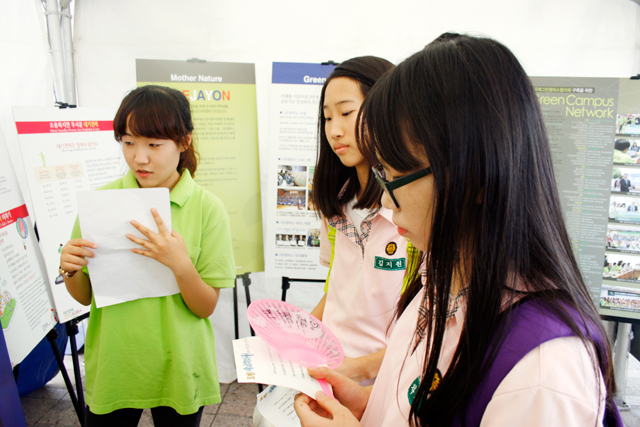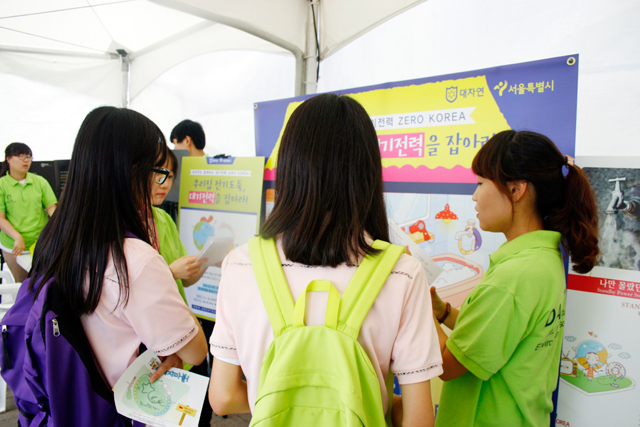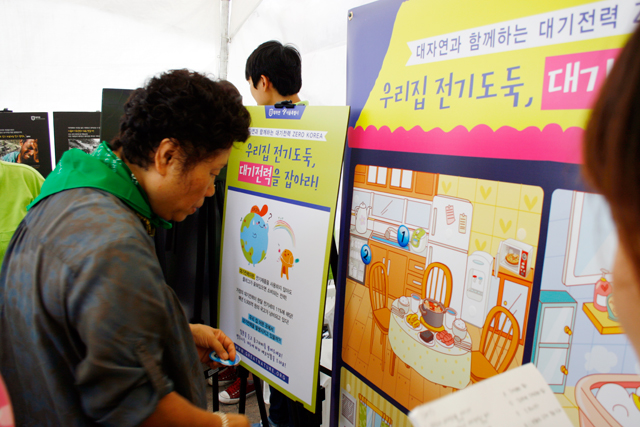 Check my house's standby power and how much it is consumed through game!
Is it helpful to understand standby power even though you don't use the energy?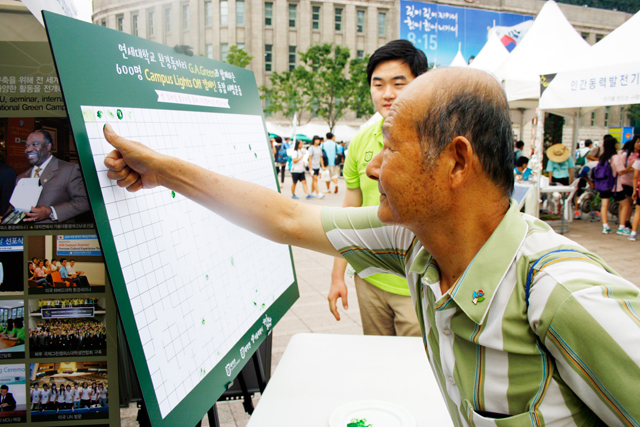 * 600 People Signature-Seeking Campaign for Campus Light On *
What is this panel the man pressing with his thumb?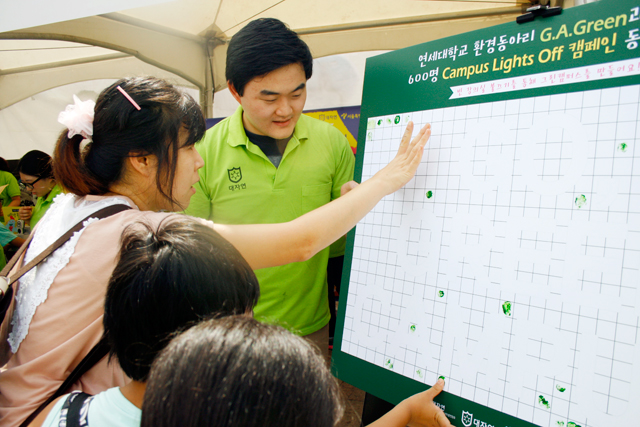 This is the "600 People Signature-Seeking Campaign for Campus Light On" panel.
By gathering signatures one by one!
As we gather 600 people's signature which means "participate in turning off the light movement", a slogan appears.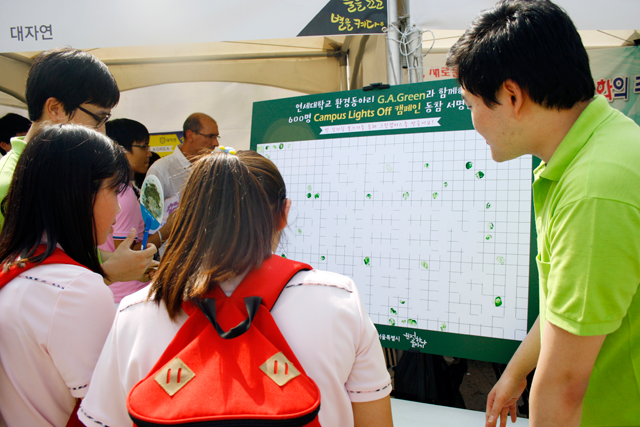 G.A.Green, the environmental club of Younsei University, leaded to inform this signature campaign.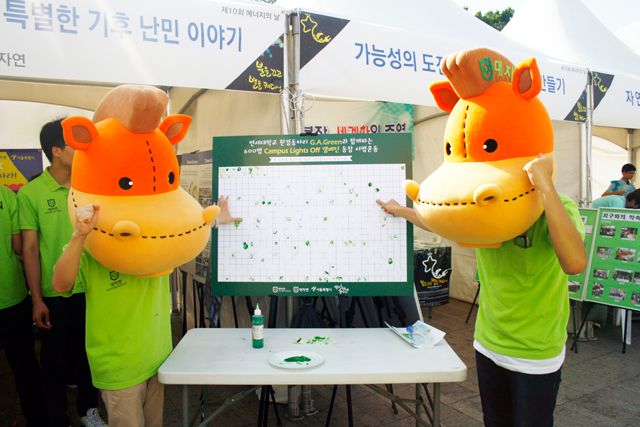 Members show enthusiasm to join turning off the light campaign. Can you see?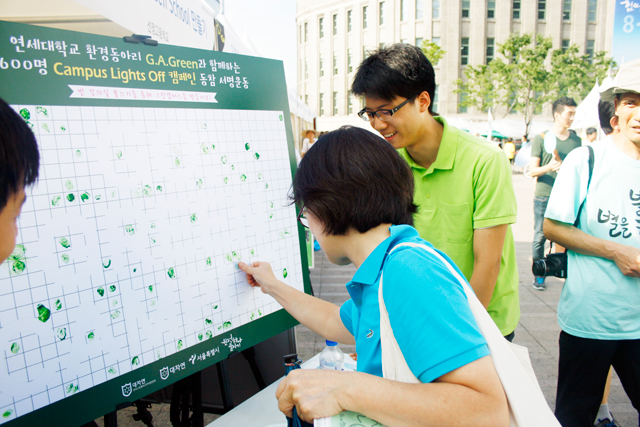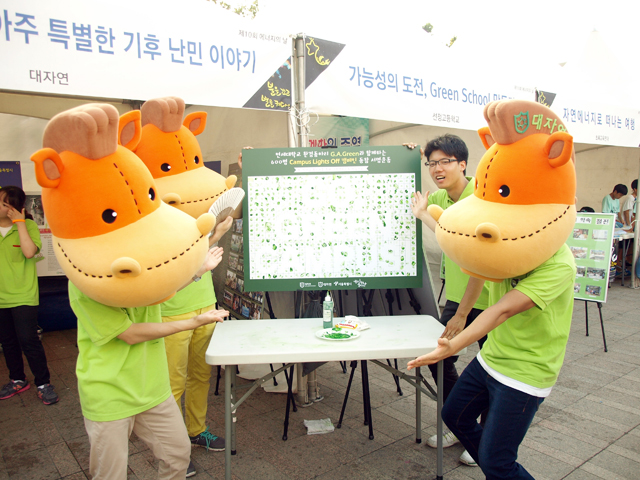 Thanks to a lot of participants!
Though it isn't appeared in photo, "GO! GREEN CAMPUS!" is showed in the end result.
Isn't it great?
Your little passion, one by one, makes Green Campus!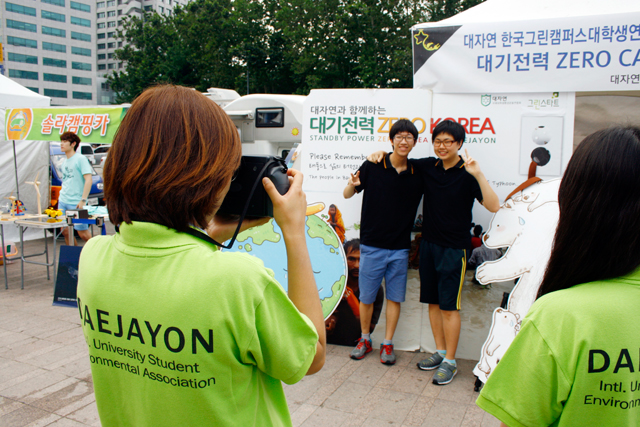 *Standby Power ZERO KOREA Photo Zone*
The corner that many people stopped walking and smiled
Here is 'Standby power ZERO KOREA Photo Zone'!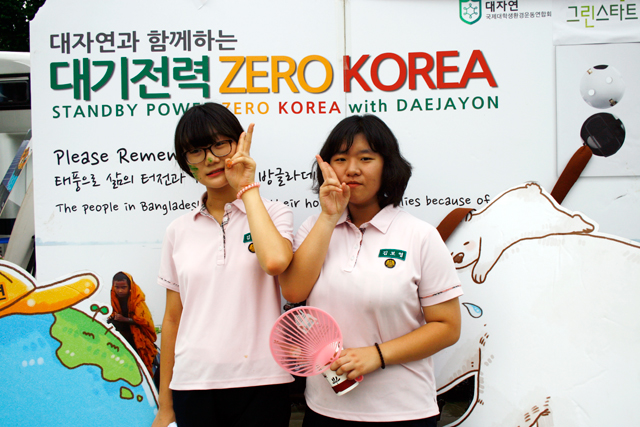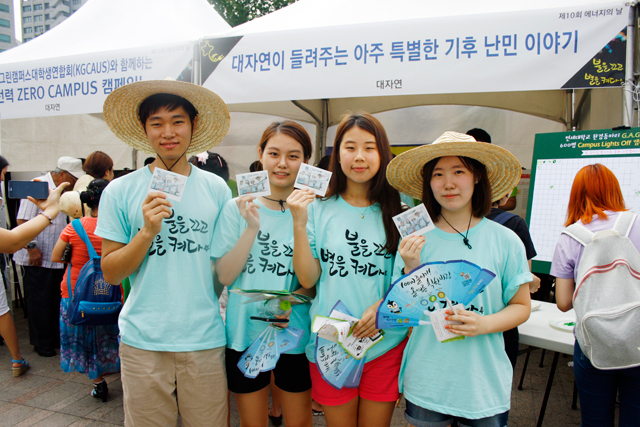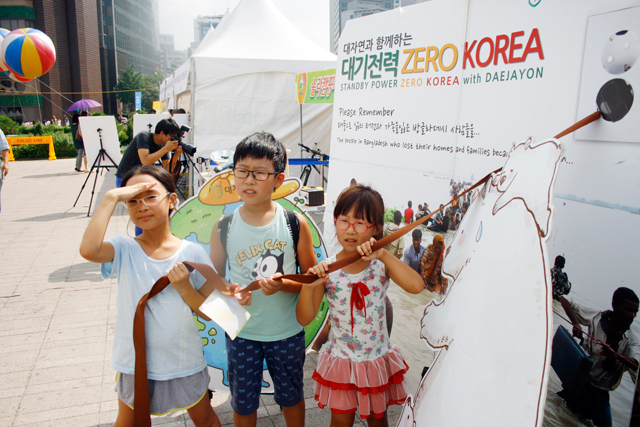 Take the pose to unplug the standby power wasting electric code.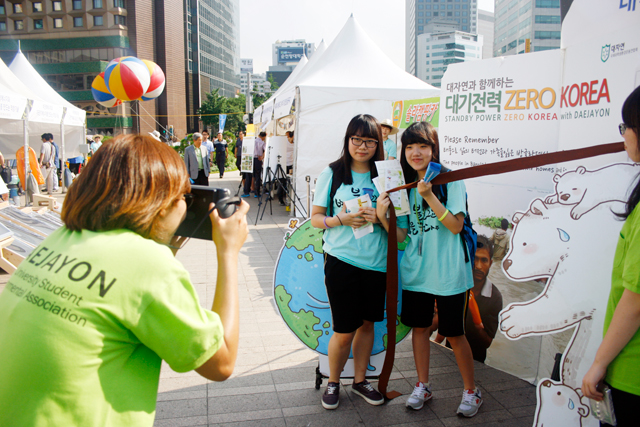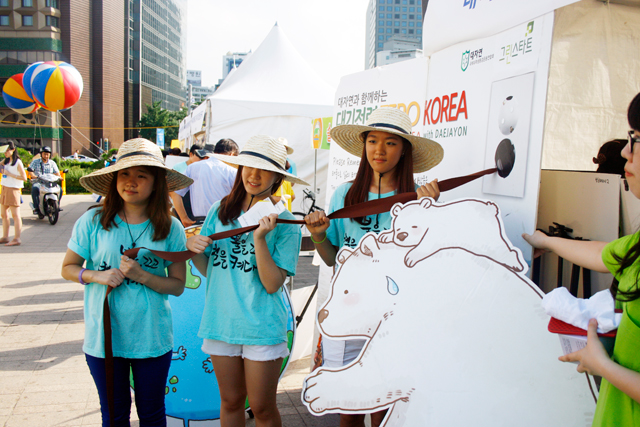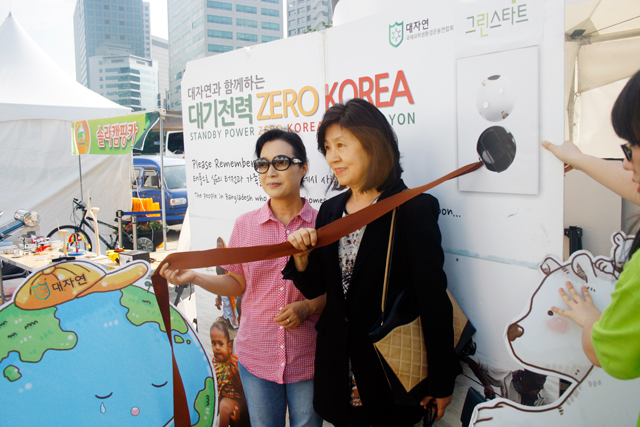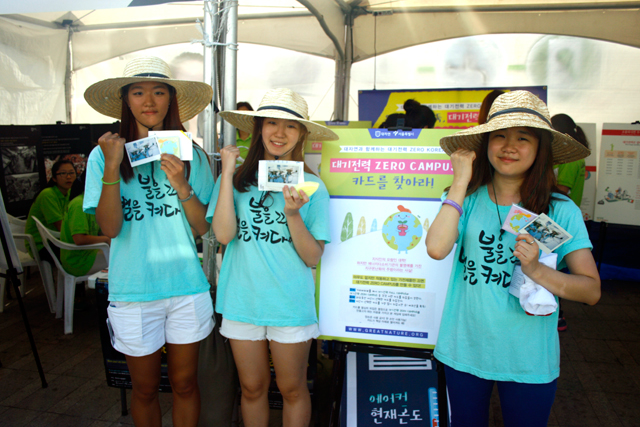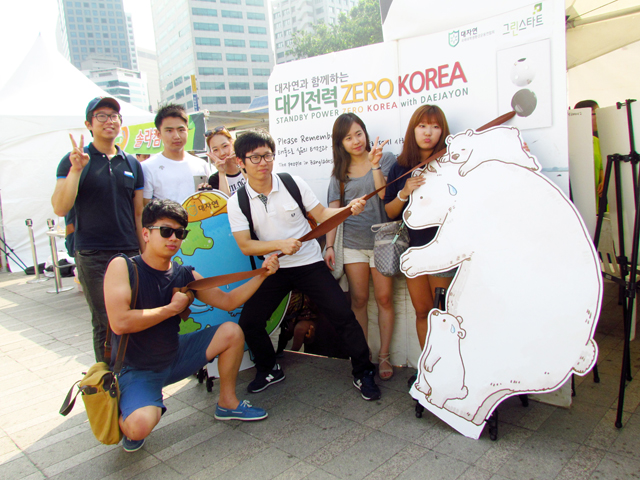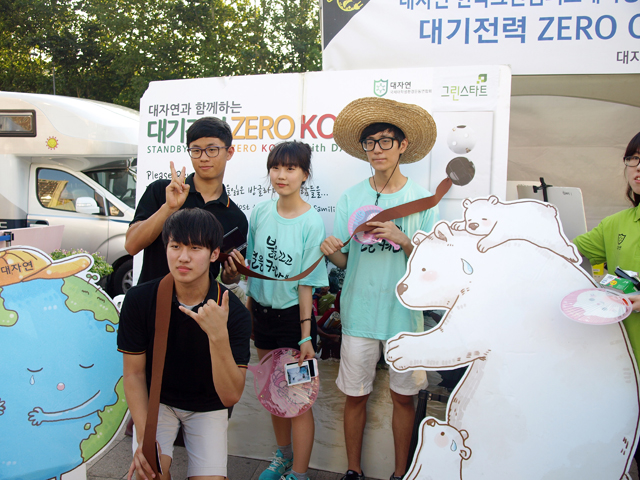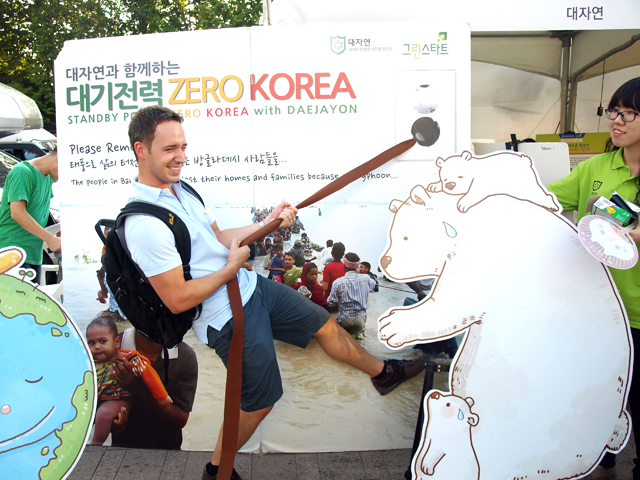 Let foreigner know standby power over the country.
We hope you to practice unplugging in your home.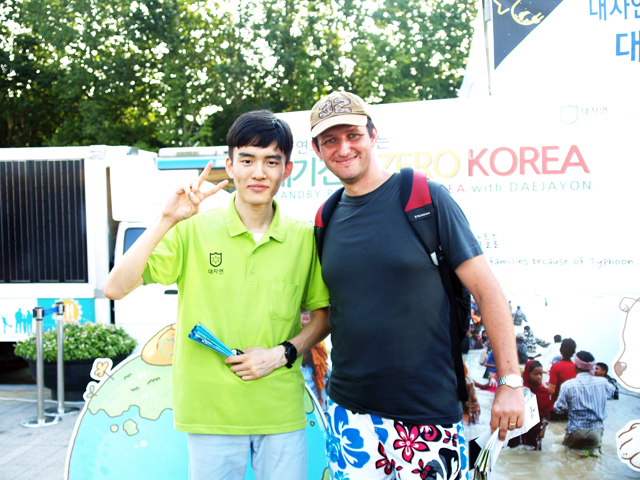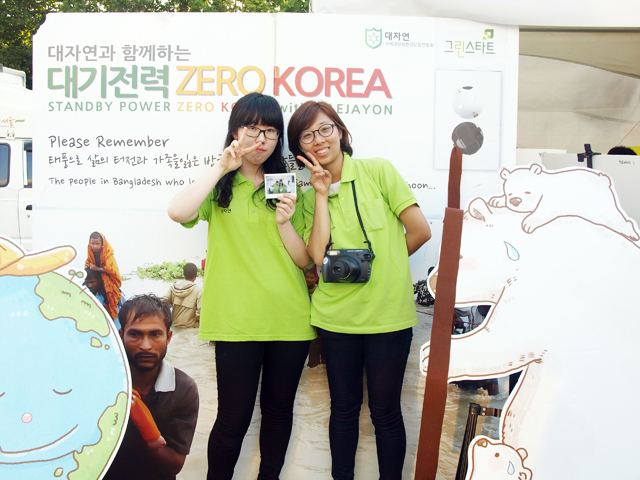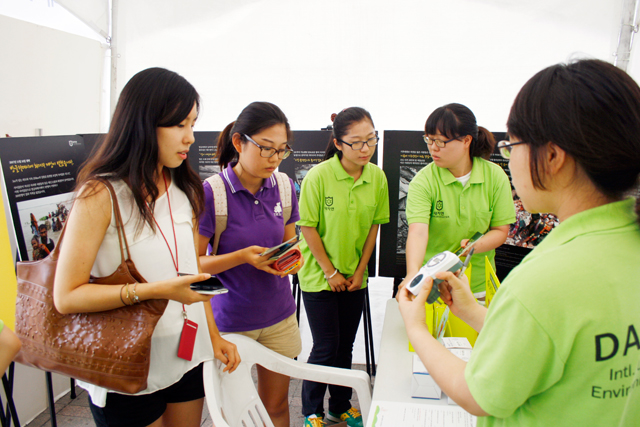 *Timer Socket Public Information Booth*
Welcome to timer socket public information booth.
We introduce timer socket! It caught many people's eye.
Shall we look at the awareness of citizens on 'standby power' first?
Actually, many of them know the word 'standby power', but don't recognize how much of electricity is wasted exactly.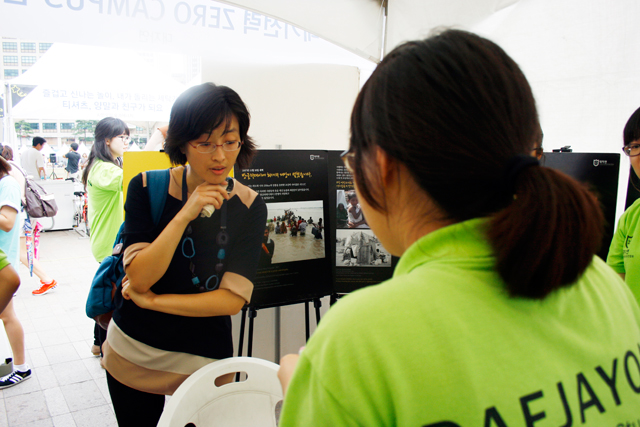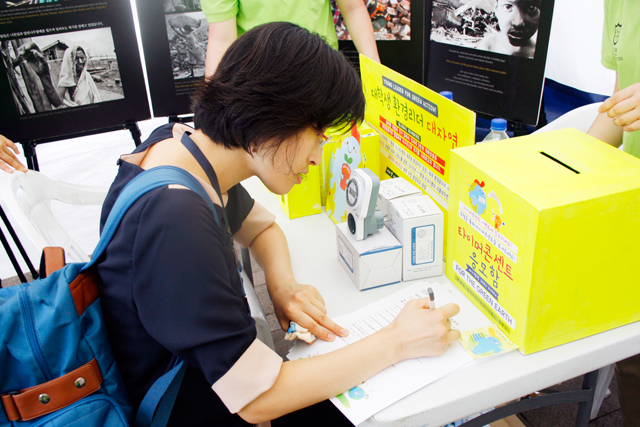 So!!
Daejayon prepared a booth for explanation of timer socket, which can cut off standby power easily.
And, we are going to send timer socket to those who put their name in.
Maybe because of that, many participants gave their interest to timer socket, the smart energy saving method!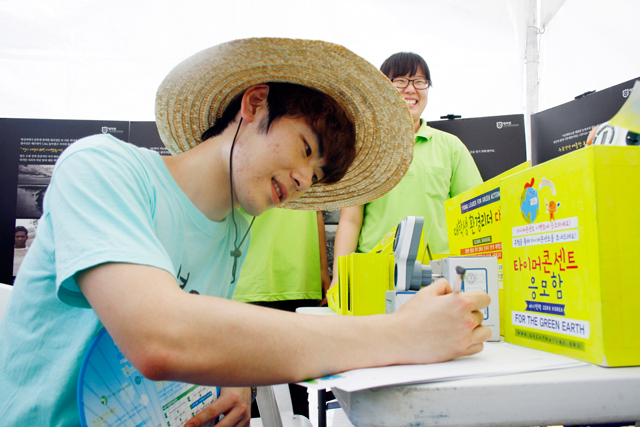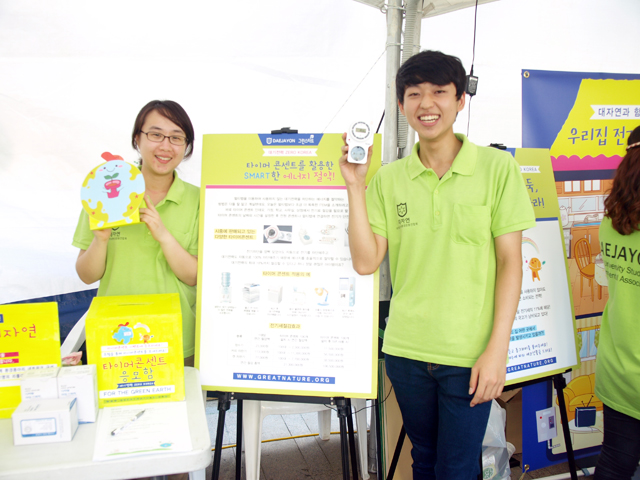 Very Special story on climate refugee
*environmental panel exhibition*
We informed environmental information easily by game. And also we exhibited environmental panel for who have an interest in environment a lot.
Elderly and foreigner are no exception.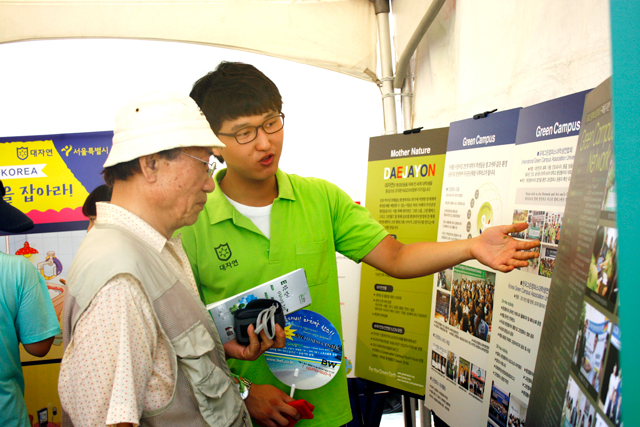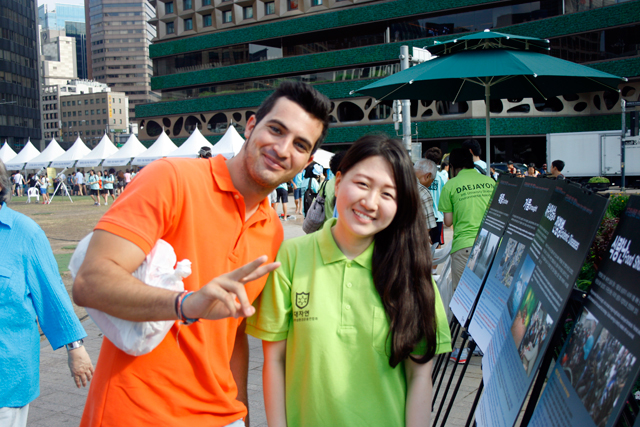 So many people recognized the seriousness of environment matter.
And they encouraged Daejayon students so much who are making effort to this.
There were panels about global warming and climate change, story panel on climate refugee Bangladesh, activities of Daejayon and Green Campus network, and information about standby power at this booth.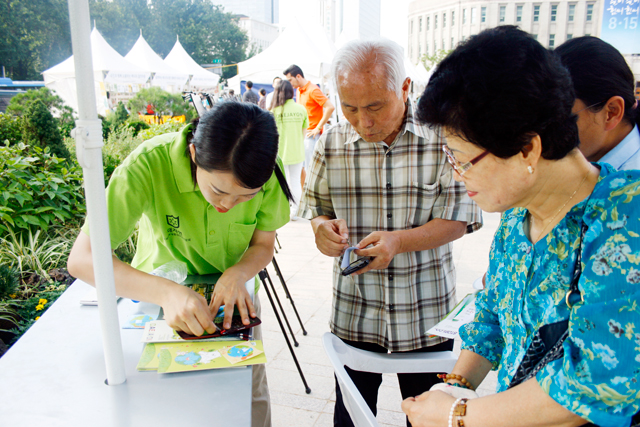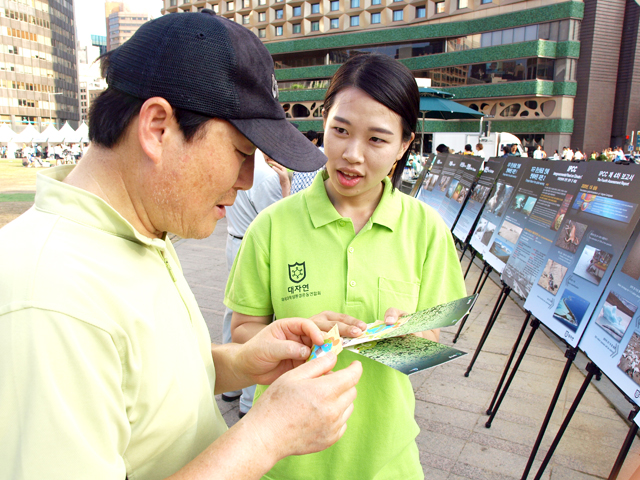 Along with this, we handed out activity of Daejayon brochure, sticker, blocking electromagnetic waves sticker and other diverse environmental materials.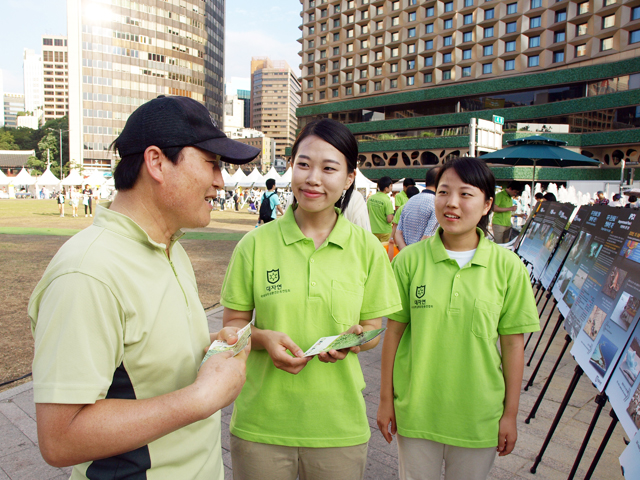 Members gain strength to meet citizen who have an interest in environment and cheer.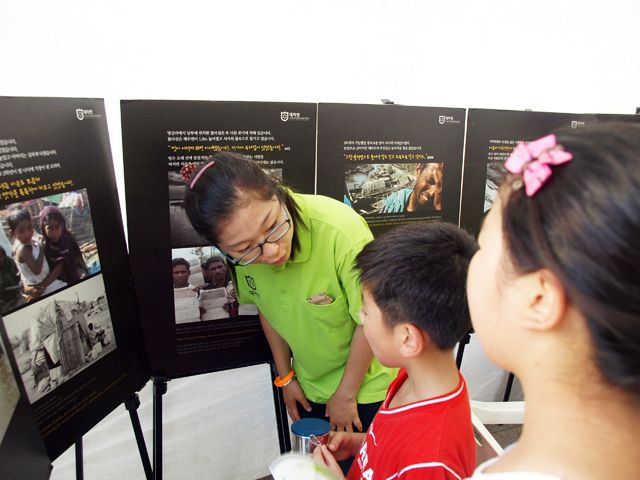 The future environmental leader, children and youngster's interest in environment was also great.
We hope environmental active would proceed more vigorously through today booth.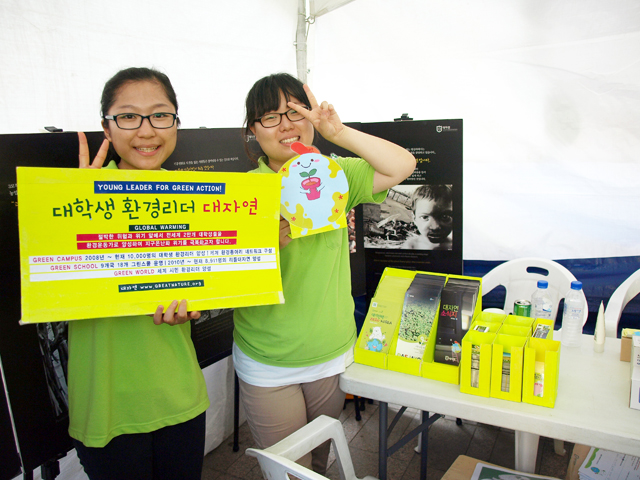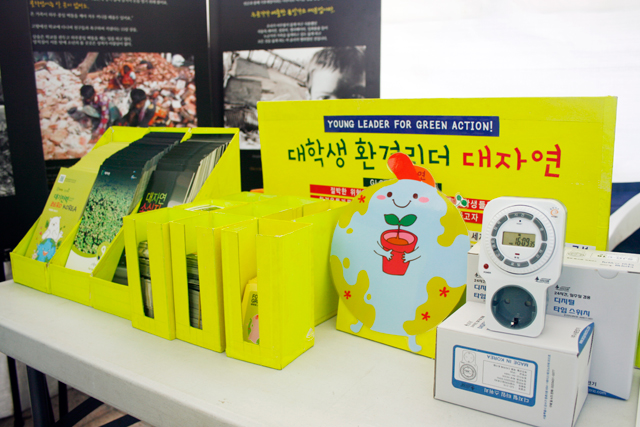 Here are many gifts that provided today.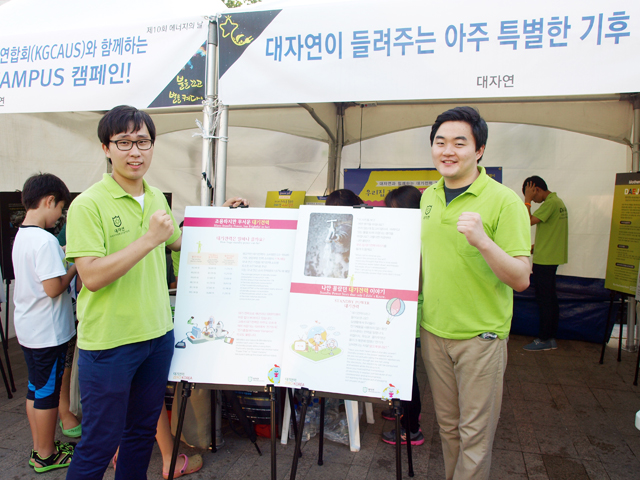 *Flash mob performance of G.A.Green, the environmental club of Yonsei University *
I'd like to introduce to you a performance team.
They burned their passion in hot day.
The horse seems like a cow! It was highly sought out.
Specially, he came on the stage today.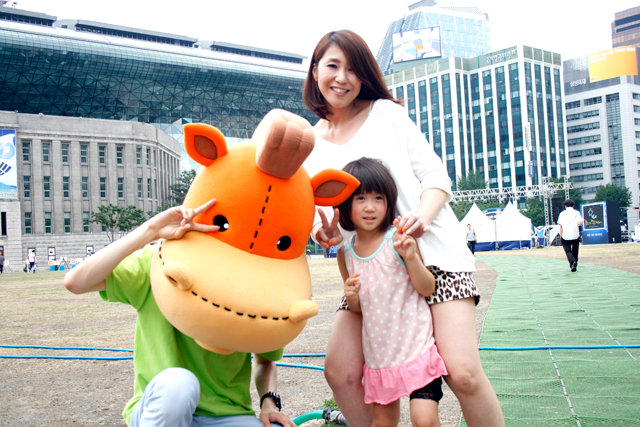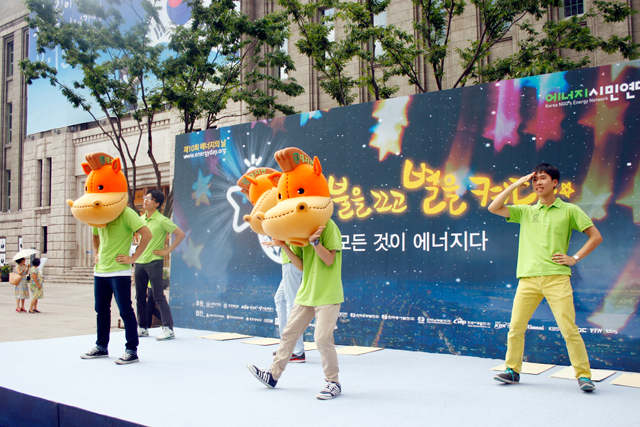 Here is G.A.Green of Yonsei University~!!
The song is 'GO! GREEN CAMPUS!' of Green+ of Daeajyon.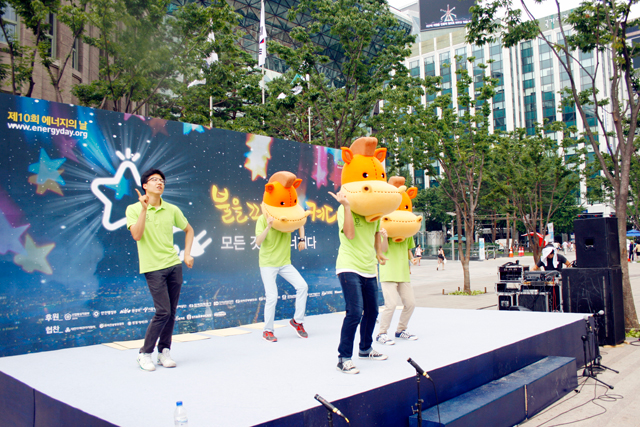 Where is romance of campus?
They look like finding where it is!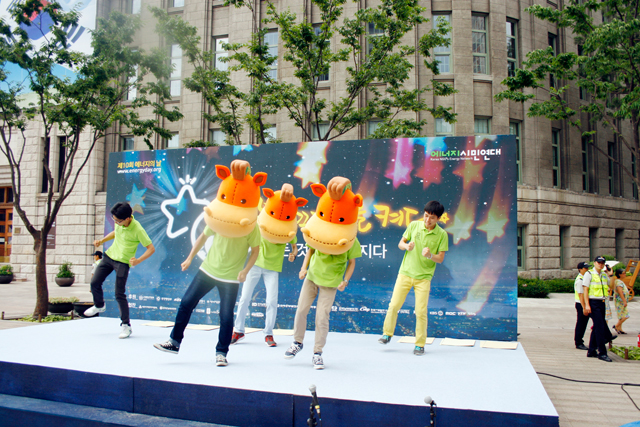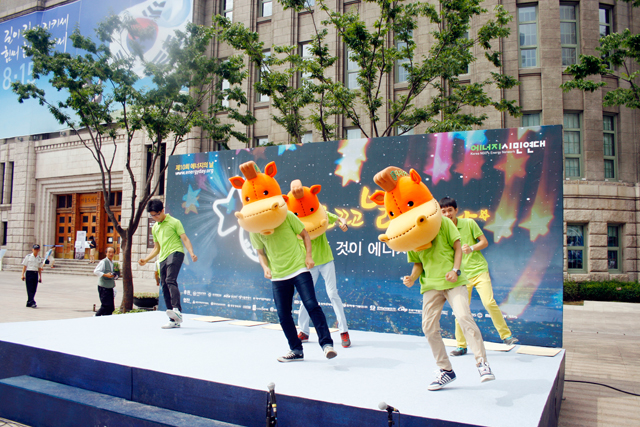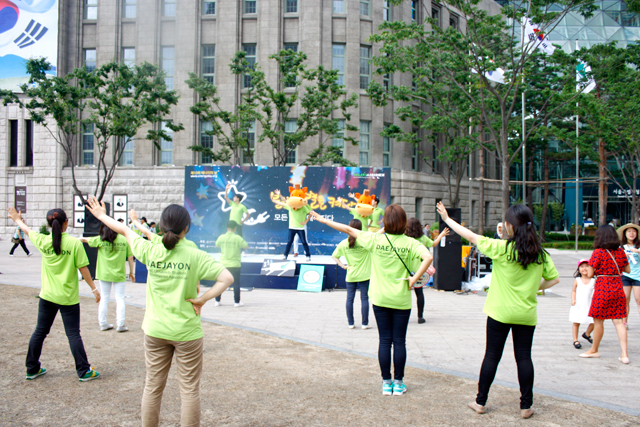 Let's follow the performance together!
There are full of fans in front of the stage!
GO! GREEN CAMPUS! With Daejayon students!
Horse masks are dancing!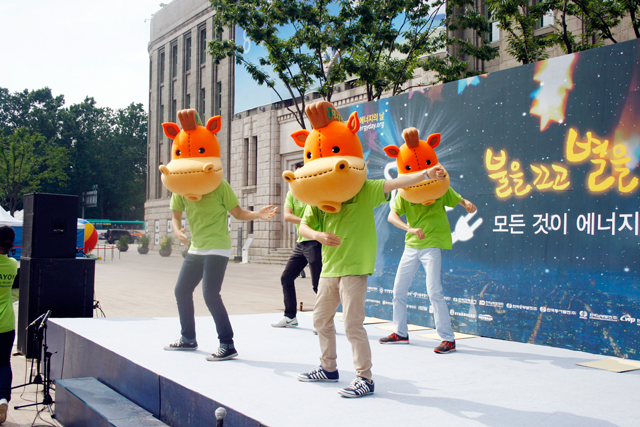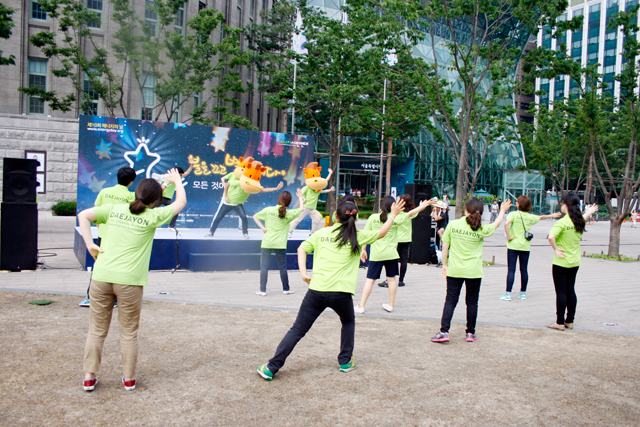 There was a performance interlude.
Empty lecture room, Switch OFF
Multi-tab switch OFF
Use the appliance of 1st grade energy efficiency rating
Air conditioner temperature setting is 26℃!
Horse is setting the air conditioner to 26℃.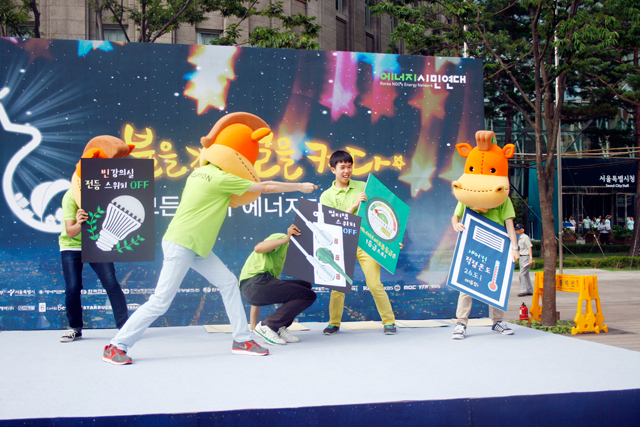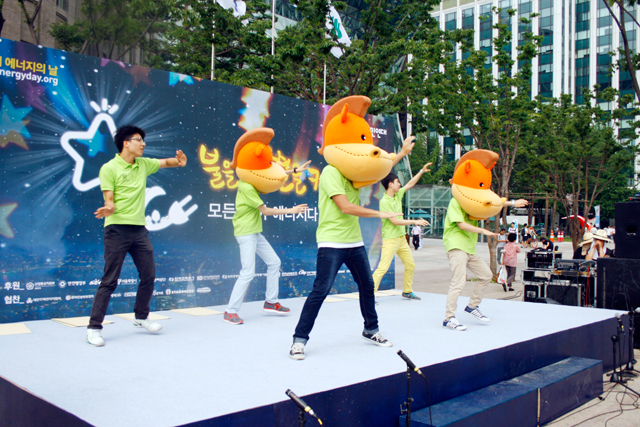 To make standby power zero campus!!
We all together!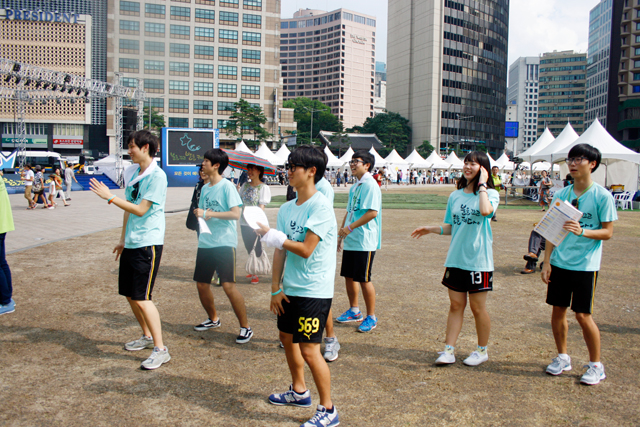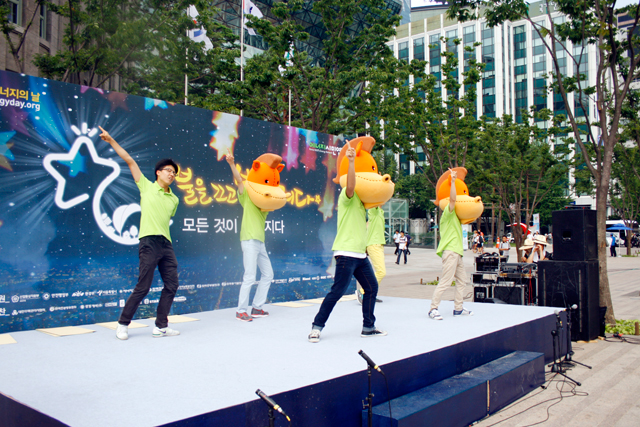 LET'S MAKE GREEN CAMPUS!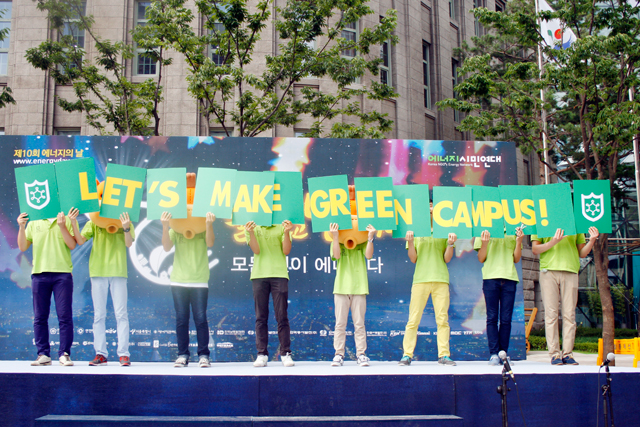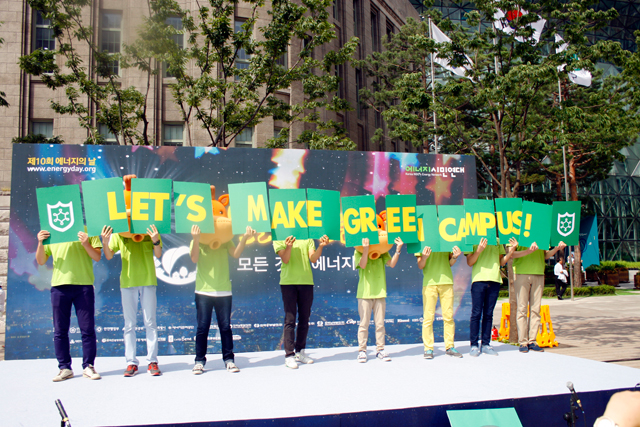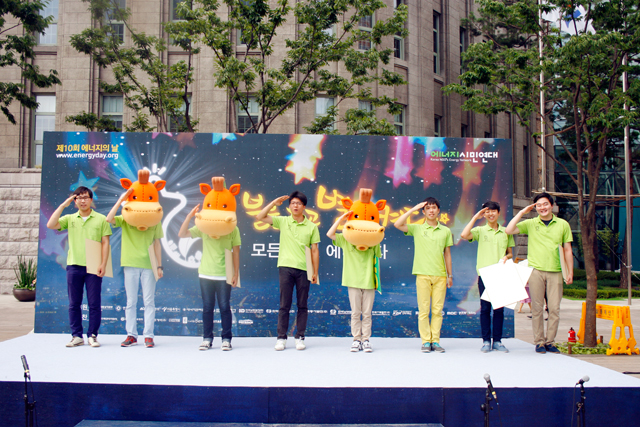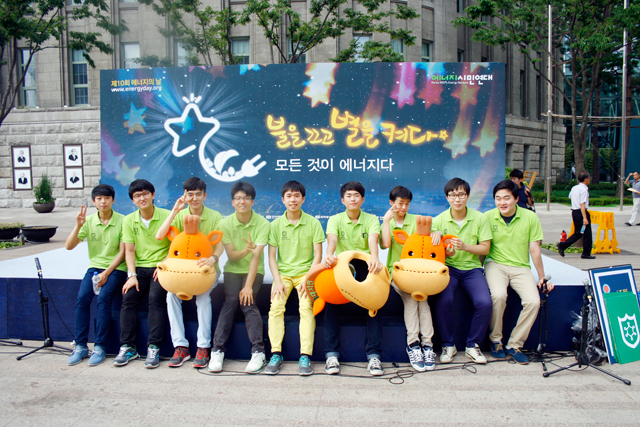 Thank you for your effort, performance team!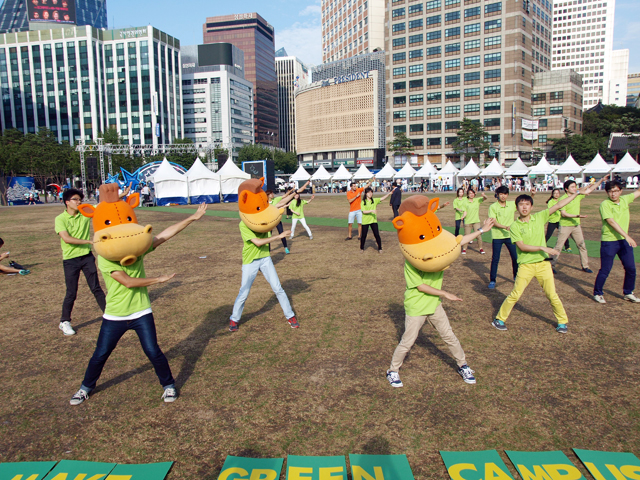 Ta-da~
At a grassplot this time!
Although it would be hot so much, members shouted GREEN CAMPUS enthusiastically.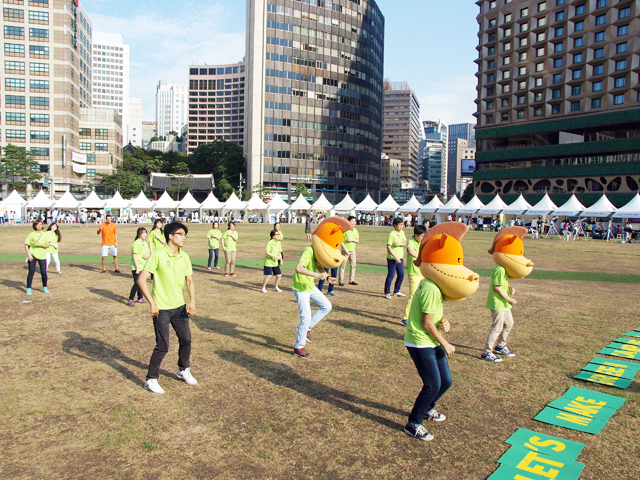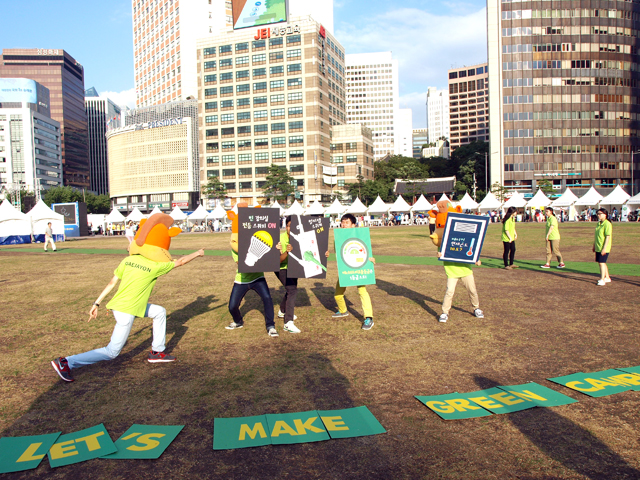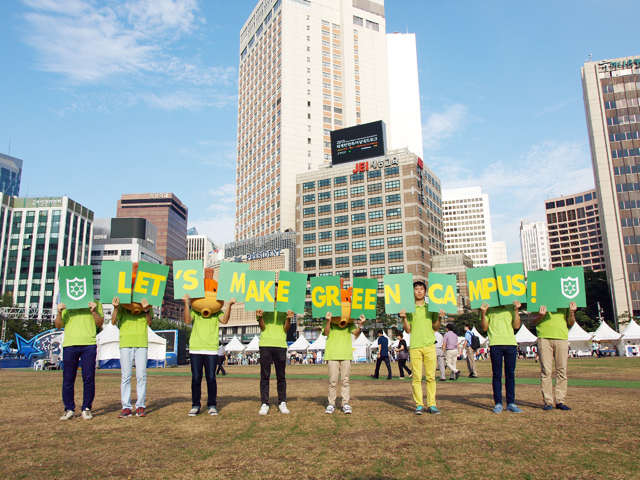 There was also performance too!
And shout under the clear and pretty sky.
LET'S MAKE GREEN CAMPUS!
Many citizens cheered us and took photo.
Especially, the man in the photo cheered us at every performance thankfully.
Lastly, here is a photo of today's Daejayon booth and more photos of other variety booths at this festival.
It was happy to see many people who are interested in environment.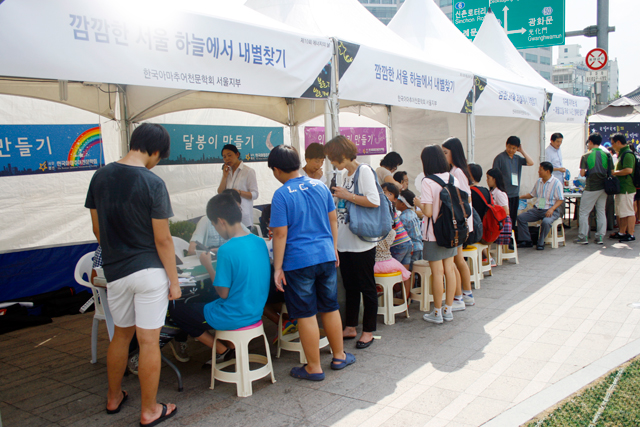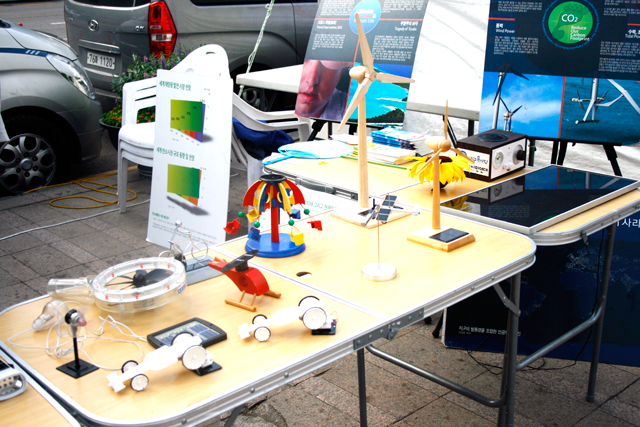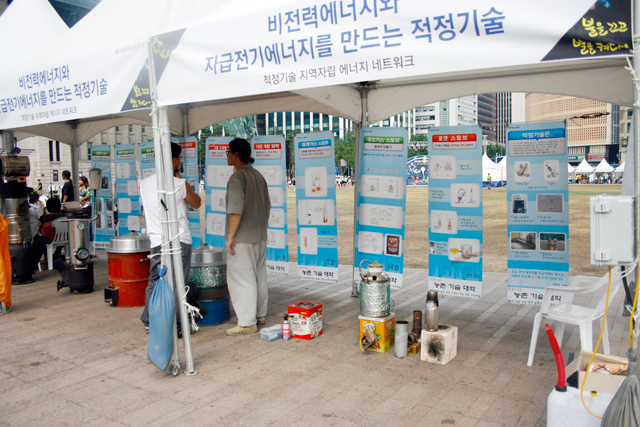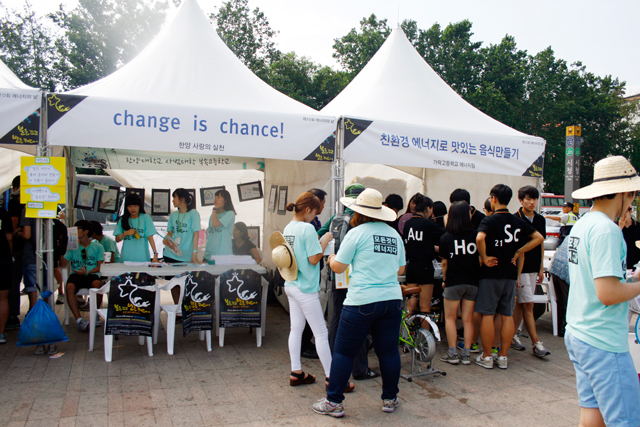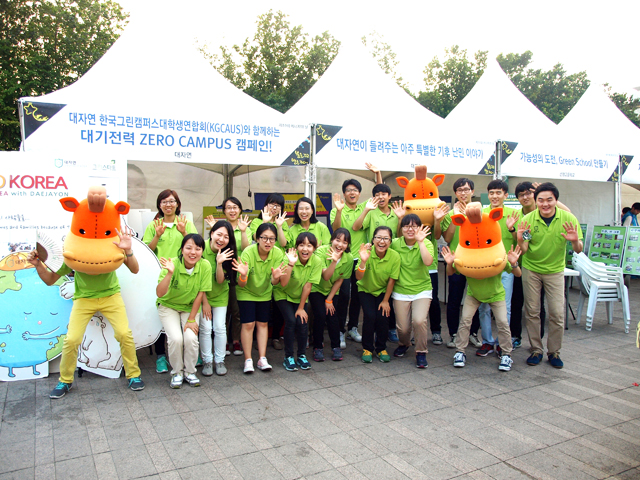 We are Daejayon, at Seoul Square, the flood of enthusiasm on environment
All together
Daejayon!